TSP Home Decor – Not all home living have basement indeed. So, if you are one of those people who have one, that's just so good. Mostly, basement is indeed used as the garage.
But if you want, it can also be a stunning living or even bedroom where you spend your days with your family and take a rest.
In this page, you will learn more about the floor painting ideas to make the basement look more amazing. Check them out.
1. A Basement with Colorful Wall and White Floor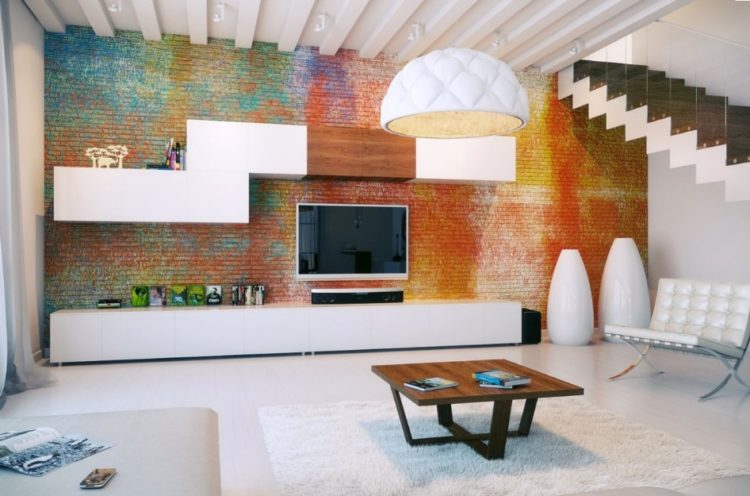 For you the lovers of modern concept, this idea is worth to try. Neutral colors like white tend to make the basement look more minimalist.
Then, to avoid it being too monotonous, just apply such a colorful painting idea on one side of the walls.
2. Marble-Look Painting for the Luxury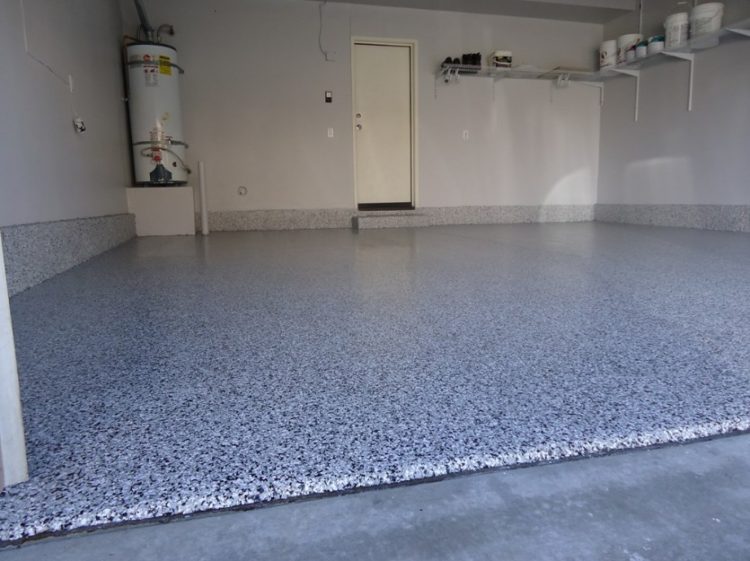 Basement is maybe a part of the house that is first seen when you and your guests come home. So, it is not bad to make it a little bit luxurious. One of them is by the application of the marble-look painting on the floor.
3. Green Floor Idea and Some Wooden Lockers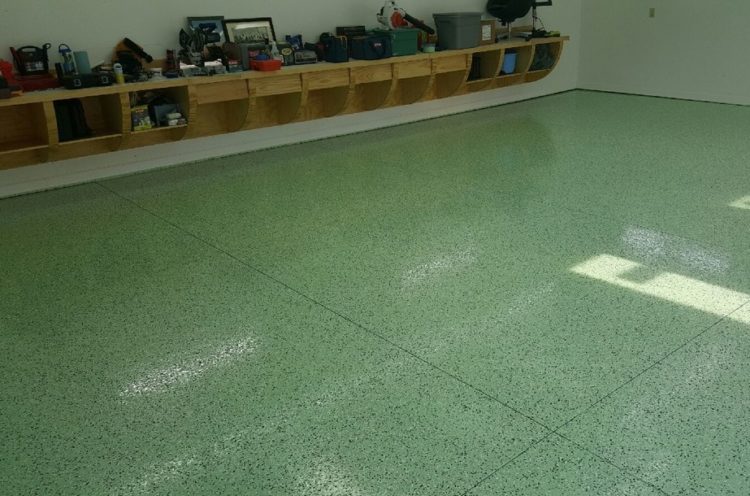 Still about the marble-look application, try to use a certain color that looks livelier and more refreshing.
Green is a good idea for this. Then, some wooden lockers can just be added to ease you in keeping your stuff.
4. Epoxy Floor Paint Idea in Grey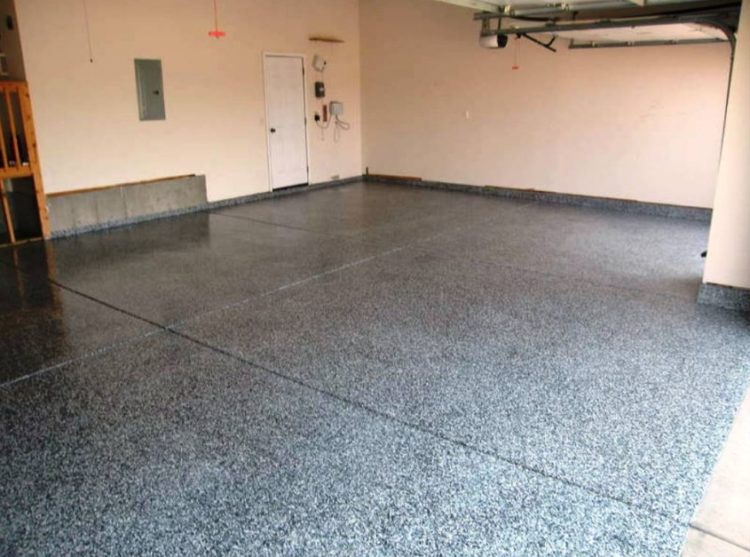 Aside from directly using marble as the flooring, the epoxy paint is also a great solution. This coating system also believed to make the floor more durable and not easily scratched. The neutral colors like grey are a good solution.
5. Plain Floor Paint Idea for a Larger Look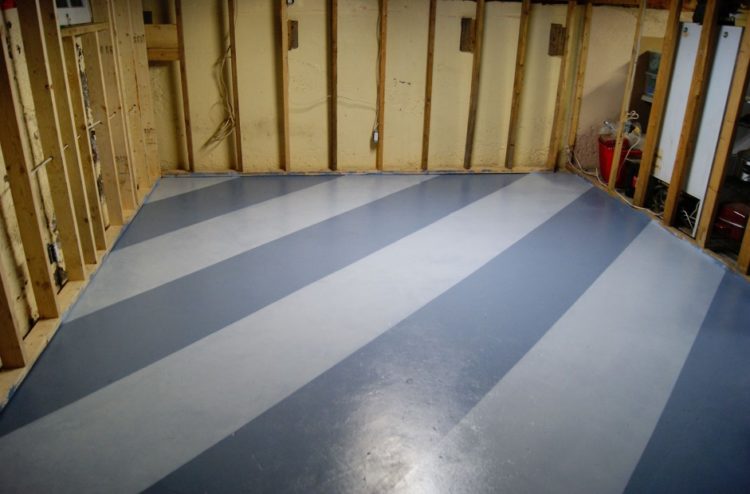 If the basement you have is quite narrow and you don't want to make it look narrower, applying a kind of plain painting is a good idea. Light and soft colors like blue, light grey, and beige are also really recommended.
6. Wooden Style Basement Flooring Idea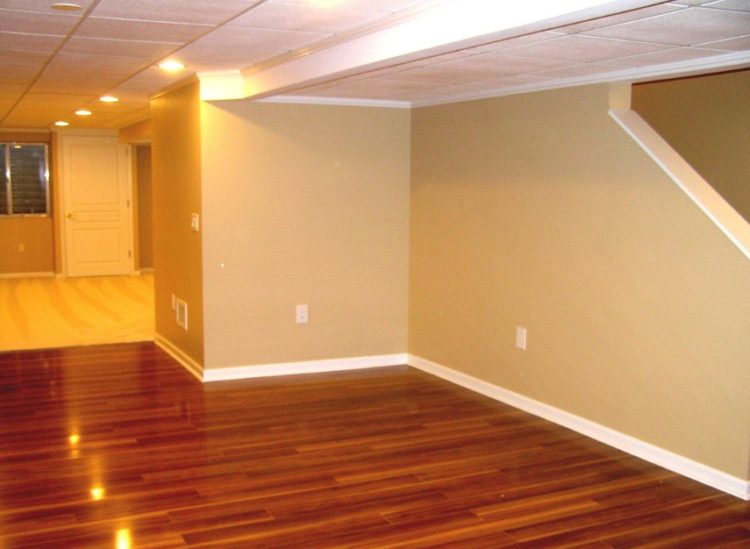 The dark wood flooring must be a flooring idea which is familiar enough. Uniquely, it can also be realized through painting without any application of the wooden tiles. For your basement, this flooring idea is just really cool.
7. Natural Look with the Dark Wood Painting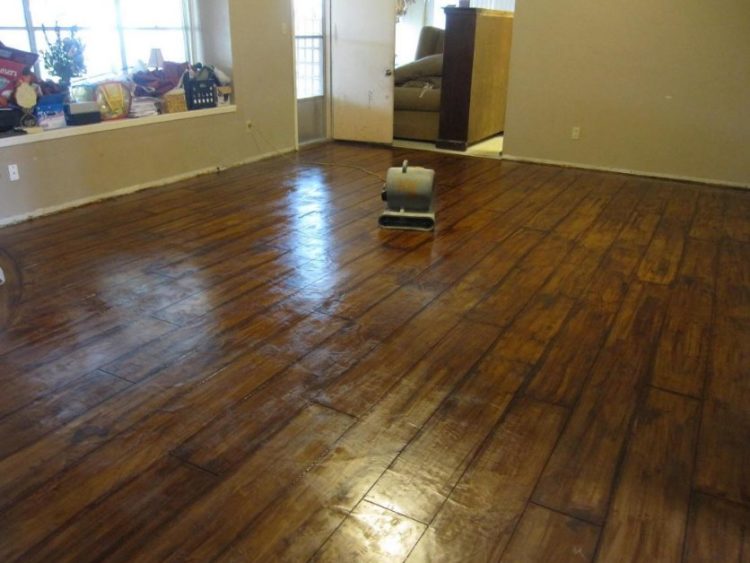 The application of dark wood painting on the floor can simply add the sense of natural in the basement. The darker color is necessary but makes sure that the wall around is in the lighter color.
8. Light Grey Floor Paint Idea in a Small Basement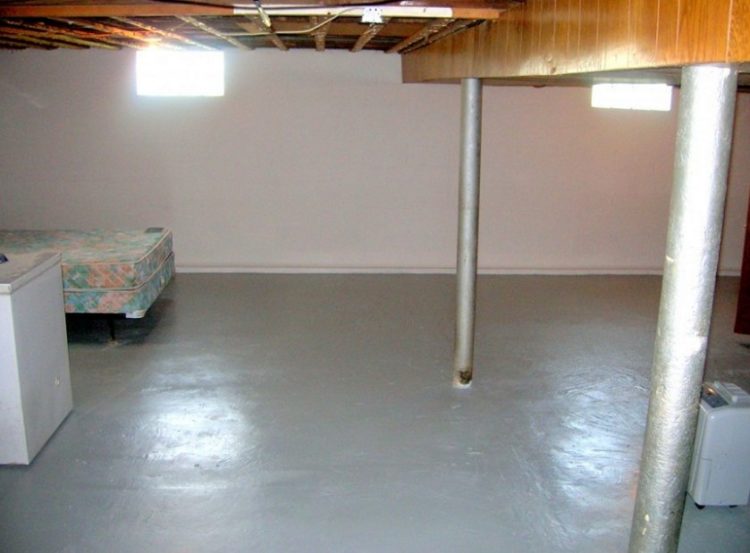 Another solution for a small and narrow basement is by applying any light color. If the wall has been in white, the light grey is just great for the floor without making it too monotonous.
9. Basement Floor Paint Idea in Patterns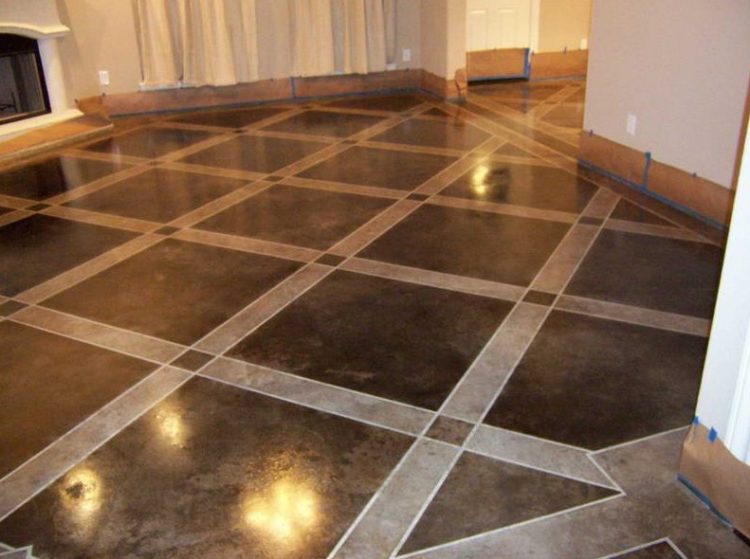 The epoxy technique can also be used to make certain patterns on the basement floor. Slightly, the results can even be really similar to the marble or ceramic applications.
10. Basement's Floor with Blue Coating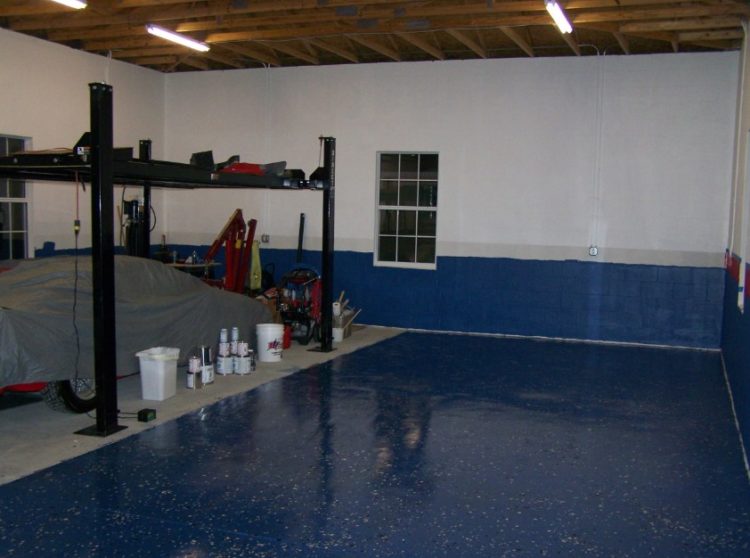 Blue is often chosen since it looks natural and relaxing. So, if you are interested, you can also apply it on the floor by painting it is just like in the picture above.
11. Pool-Like Basement Floor Paint Idea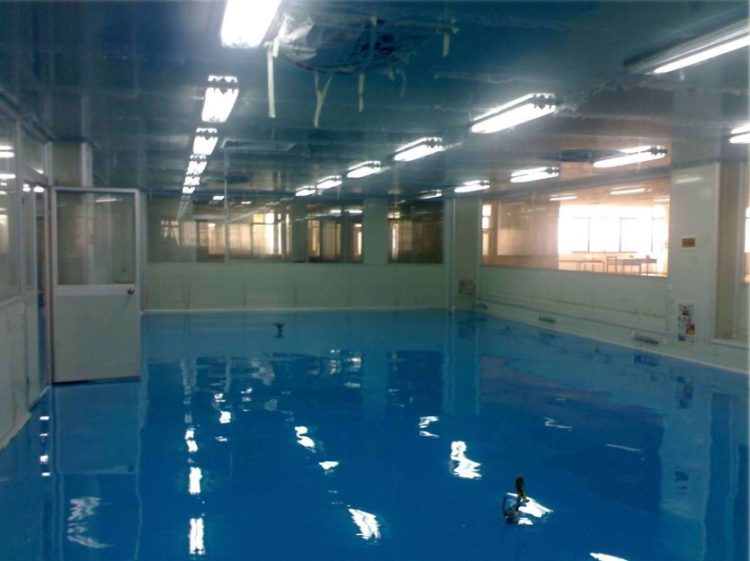 You should not be surprised if there is no water at all in the picture. Well, there is no pool but just such an optical illusion. It is an example of floor paint idea with glass-painting technique. The result is that the floor becomes really glossy just like it is made from the glass or even water.
12. Earthy Color on the Basement Floor
Particularly if you intend to make your basement as the warehouse or garage, this idea seems the most appropriate one. With a gradation technique, you can just combine two or even three colors at once so that the result is more natural. That earthy idea is a great example.
13. Multi-Color Basement Floor Paint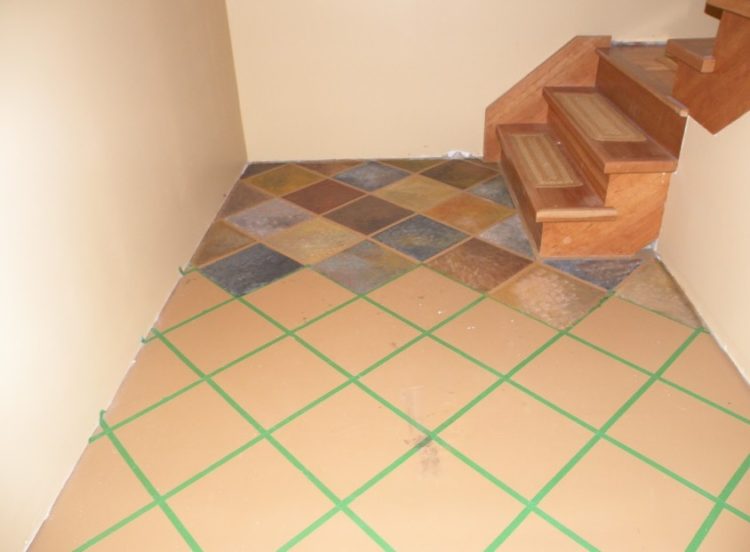 This needs more efforts indeed in which the pattern must be made at first before the colors are applied. On the picture above, you can see that the gradation technique is applied to each square. Uniquely, the colors are different from one square to another.
14. Big Plaid Paint Idea on the Basement Garage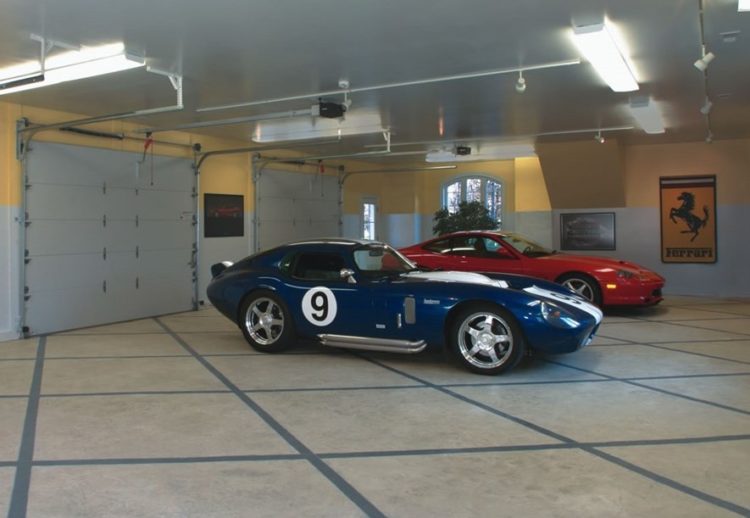 Despite applying the earthy idea using gradation painting technique, this one is good as well for your basement garage. It is by applying the big plaid pattern using neutral colors like grey or maybe brown.
15. Glossy and Matte Paints at Once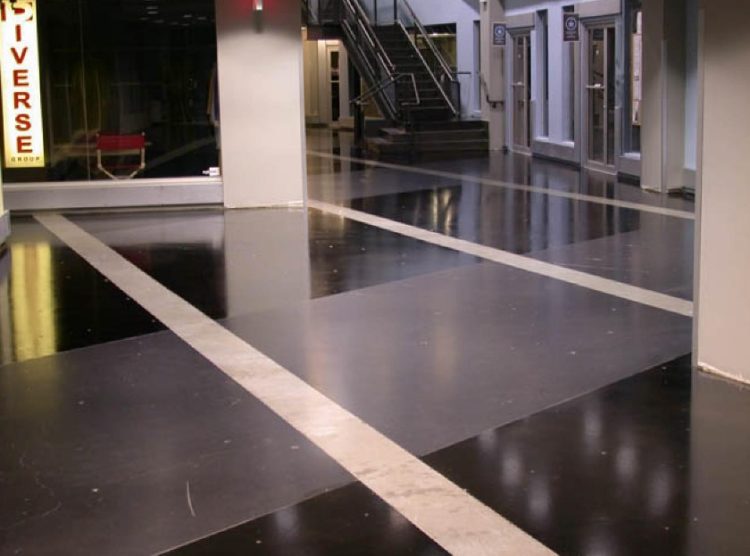 Glossy and matte are two types of coating that are in contrast from one to another. When they are applied at once on the floor, it creates such a unique vibe in the basement.
16. Glossy Painting Technique on the Floor with Fiber Design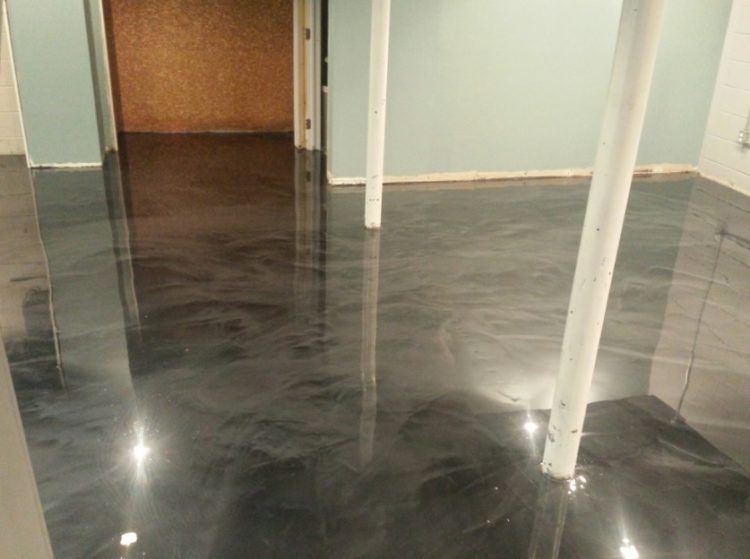 This idea combines two techniques at once. First, it is about the application of fiber using gradation painting technique. Second, the floor is then varnished to make it look really glossy like the glass. It is so stunning for sure.
17. Earthy Grey Floor with Bright-Colored Wall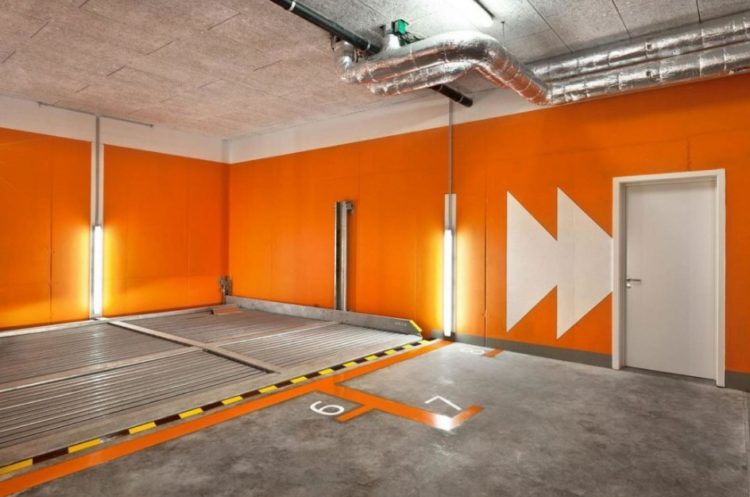 It is so good if the painting ideas in the basement are complementing each other. So, if you have a kind of bright color idea on the wall, it looks better if the floor is in a neutral color like the earthy grey.
18. The Application of Matte-Colored Furniture
When you have applied the glossy floor idea, balance the atmosphere with some types of furniture which is in the matte color.
19. Dimly Basement for a Dining Room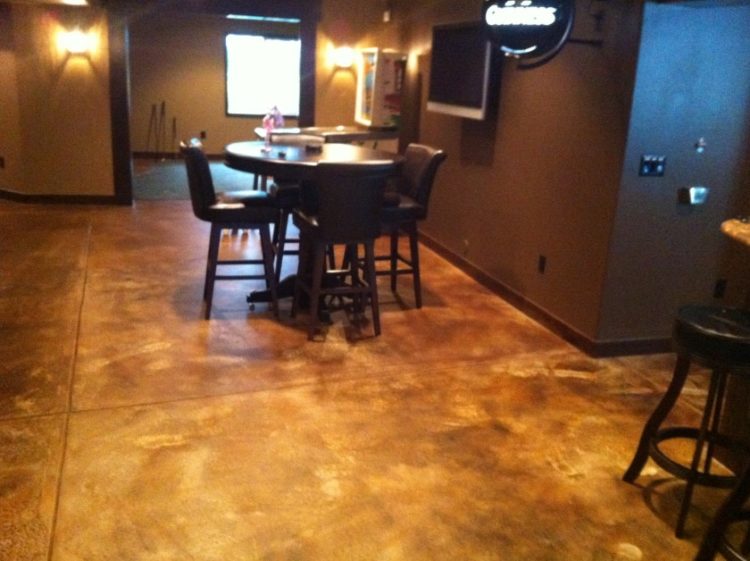 Are you interested to use the basement as a dining room? Dimly lighting is a good idea to make the atmosphere more romantic. Then, complete it with floor painting idea with the same color like brown or beige.
20. A Small Bar in the Basement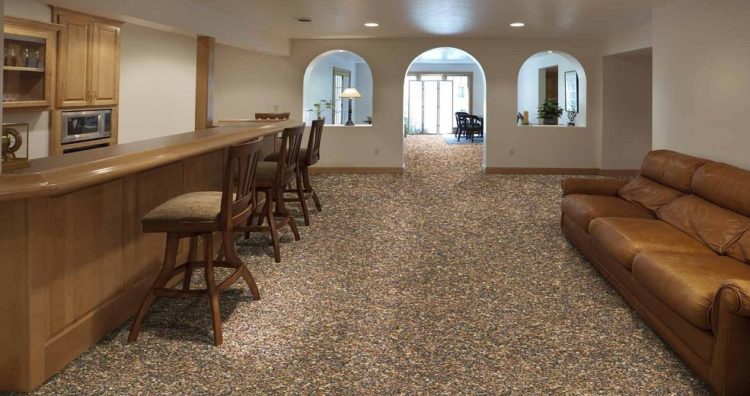 Your basement can also be good for relaxing and gathering. So, a kitchen with bar stools is very good to be applied to it.
For the floor, spots flooring idea in earthy and natural colors are good to make the nuance much warmer.
21. White Cement Floor Paint Ideas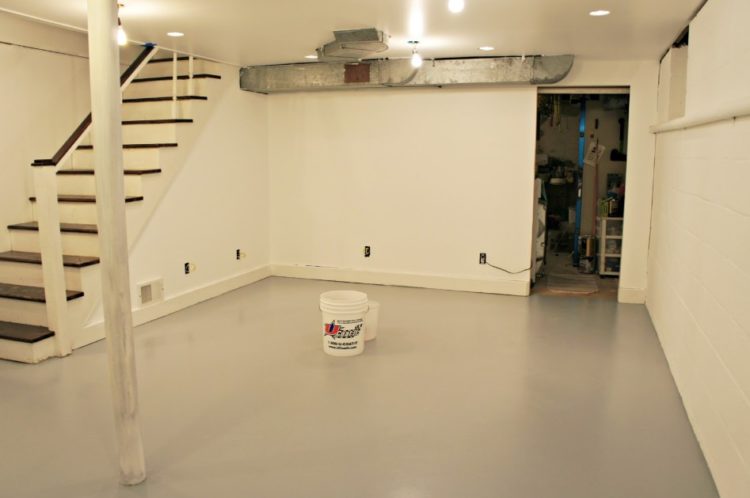 If you want the simple one but it still looks sophisticated, the white cement idea is just great. There is no glossy or matte idea, no gradation, no pattern, and no spot without lessening the elegance.
Whichever the idea you want to apply, just make sure that it makes you feel more comfortable while in the basement. So, are you interested to apply one of those floor paint ideas?