TSP Home Decor – The built-in bunk beds might be something you need right now. In fact, a built-in bunk bed could save so much space in the room.
This type of bed is also suitable for you who will create a house for backpackers. Other than that, it is like buying one for two.
However, this type of bed is not designed for everyone. This is why you need to consider so many things before you decide to buy one.
Pros Cons of Bunk Beds
What if your kid has some kind of claustrophobic? So, here are the pros and cons you should consider before buying a built-in bunk bed.
Other than the examples and ideas from pictures we are going to show you, we also want to give you some pros and cons at the first place.
The Pros
Bunk beds are good if your kids love to bring their friends home for a sleepover. Basically, bunk beds are suitable if you have several children in the house.
You do not need to provide one room for one person especially if there are five kids in the household. Other than that, bunk beds are available in several sizes.
On the other hands, by having the bunk beds in the house, you can maximize the available space for storage room.
Even some types of bunk bed come with some storage arrangements here and there such as drawers, shelves, and many more.
Some of them also come with pull-out bed option which can make an additional bed when you need it.
Even though your kids stay in the same room, they still have their own little privacy. Besides, your kids could learn to sleep independently.
If your kid wants to read a book before bed, she or he does not need to bother the others since they have their own space.
Still, you better purchase a bunk bed that can be upgraded into a full bed since your kids will also grow bigger eventually.
The Cons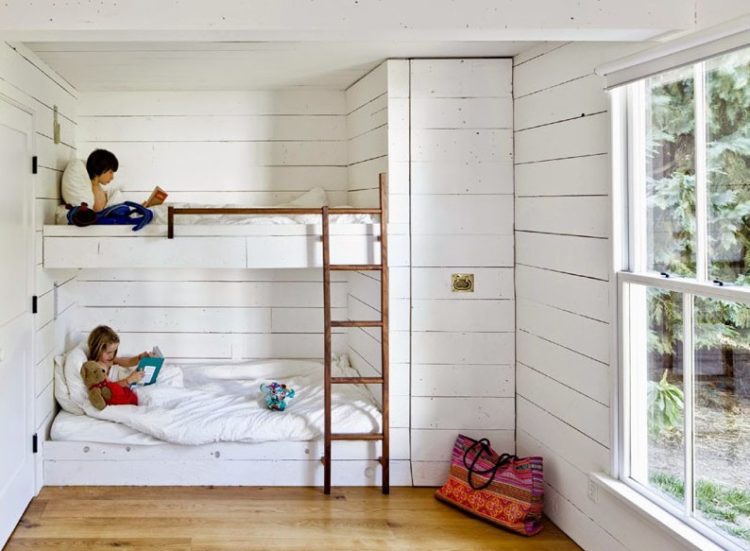 Since most of the built-in bunk beds on the market are designed for kids, the safety concerns are the first disadvantage of owning this bed.
Besides falling off from the ladder, the hard surface of metal and wood rails could harm your kid. The stability is the next consideration.
Making the beds would be a bit harder since you have to climb up the bed. It is high enough and you cannot make it to the top without climbing it first.
Also, it is not suitable for a room with a lower ceiling. Again, safety does matter.  If you always tuck your kids in, it is going to be harder for you to tuck in the kid on the top bunks.