Get Cozy and Clean Room with Creative Hat Rack Ideas + Pros Cons
Hat Rack Ideas – If you love to look good and stand out with some statement fashion accessories, then you probably own a hat or two.
You might however find it challenging to store your hats, as they sometimes have their shape distorted based on where you have them placed, while sometimes they just get dusty even without being used, making it impossible for you to wear them when you want them.
Hats cannot be stored amongst one's clothes so it is better to have them on their own, while at the same time, you do not want to have them take up too much of your space, especially not when you have more important things to worry about. With all that in mind, how exactly should you store your hats?
Well, here are a few hat rack ideas that can help you better store your hats, without them taking up too much of your space and yet still have just enough space not to have their shape distorted:
Have hooks attached to a wooden or plastic frame on your on your wall
Have a metallic, wooden or plastic frame on your wall with hooks that are reasonably spaced on it, which you can then hang your hats on. Clean and neat is what you get with this particular hat rack storage method.
Pros
This method of storing your hats does not take up too much space.
It is also an easy way to find just the hat you are looking for, when you need it, without having to waste too much time.
This method of storage helps keep your hats in shape.
Cons
This method of storage could get your hats dusty.
Hang them on a clothing line running across your room from one end to the other
You could opt to have a clothing line run horizontally from one end of your room to the other. Use a peg to secure your hats onto the clothing line, if it is a sisal like clothing line material or hooks if it is a metal like clothing material, as the one shown above.
Pros
Even if your hats do not occupy the entire line, you could use the rest of the remaining space on the line to hang clothing and even scarves.
Cons
This might not be such a tidy option for you if you prefer your space clear.
Counter top hat display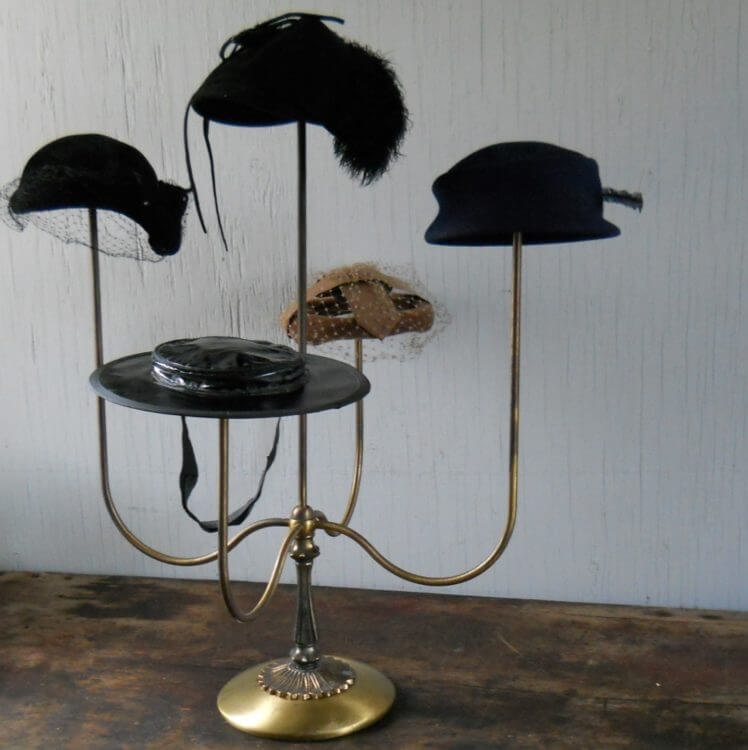 This can be bought at your local store. You could opt to buy a wooden one or a metal one. There are now even those made of plastic although if you are looking for one that will last long, then this should be your last resort to put into consideration.
It is also important to mention that the wooden ones could have their prices vary, depending on the type of wood used. For example, those made of Ebony type of wood would be more expensive than those made of Rosewood. However, check for quality and durability, which will in the long run save you money.
Pros
A counter top hat display is cheap.
Cons
You could also use the remaining spaces (if any) to hang up your coats or bags, if your chosen rack is strong enough to hold them.
Hanger with hooks
Another easy way to save up on space is to use a single hanger, add hooks onto it and then use them to hold your hats. This hanger can then be put in your clothes' wardrobe or if you prefer, you could have it on a hook attached to your wall, closet or bedroom door.
Pros
It is an inexpensive option that I would advise you to take up especially if you are running on a low budget.
[Cons
This might only be an option for storing baseball hats. You might therefore need to find another alternative to store your summer hats
It might also not be an alternative that maintains your hat's shape.
Wire mesh
While most people mostly opt to use wooden and metallic frames for their hats, I challenge you to dare to be different and opt for wire mesh. You could have a wire mesh secured on the side of your bedroom wall or even on your hallway and have your hats hanged onto it using a peg.
Pros
This will ensure that your hats' shape remain
It is also a neat and sophisticated touch to wherever you choose to have it placed.
Cons
This might not look as good on a hallway if you do not have enough hats to fill your wire mesh space, leaving it bare.
Cap storage system
You could purchase this cap storage system from your local store. It surely is not such an expensive option so that is definitely a plus.
Pros
This hat storage system will arrow room for up to ten hats, while giving each hat adequate room for itself.
Cons
It might only be efficient for base ball caps and might take up too much space in your room. Therefore, if your entire household combined does not have plenty of hats, you could opt for other options to save up on space.
Vertical display of hats
Have your hats vertically and neatly displayed in your room with this stylish and modern storage method. It is a refreshing way to display just how fashionable you can get, and adds flair to the room.
Simply have magnetic hooks hanged up your wall from the top to the bottom and precisely aligned to achieve this kind of storage and aesthetic hack.
Pros
It is an option that makes it easy for you to easily grab your preferred hat as you head out.
Cons
This kind of storage system could get your hats dusty over sometime of being exposed.
Ropes hanging from a hook
Now this is another perfect way to effortlessly switch up your room to something that you will definitely like. Simply have a frame vertically placed against your wall and then add your ropes to it.
The ropes could have some nice hooks at the end, just make sure that they will not be damaging to your hats. The hooks should then secure and have your hats hanging down.
Try to have your have your ropes at different levels by forming a staircase pattern, just to avoid being boring. You friends will surely envy you the next time they get to see your room.
Pros
This is a great way to decorate your room, without having to do too much.
Cons
If your room is small, then this might not be an option that would work for you as it requires adequate space for it to look neat.
Bohemian hanger
Style up your room in a chic country style by getting yourself this Bohemian hanger. Now you might not be able to find it at your local store considering the fact that it is a rare commodity, but try out an antic shop or even online to land yourself a good deal.
Pros
It is a stylish way to stack up your summer hats.
Cons
It might be hard to use the same storage device to stack up your favorite baseball or even beanie hats. Hence, while I might not want you to give up on getting yourself one, think long and hard about it and also its ability to retain your hat's shapes.
Stacking them up on your favorite dummy
If you don't have the money to buy yourself a counter top hat display or a Bohemian hanger but own a dummy, then you really do not have to sweat it.
You have just what you need to store your hats and not just that, in a stylish way that will transform your room into some kind of elegant display shop.
Simply have your hats stacked together, one on top of the other and perhaps add a nice beaded necklace to hang down your dummy's neck just to keep things interesting. It's really that simple.
Pros
It is a great way to save on the space that would have otherwise be taken up by your hats.
Cons
The only thing that you might hate about this hack is that in order to reach the bottom of your stack to get that hat which is stacked up on, you have to carefully remove every other hat and ensure you don't disorganize or drop them, just to save on time. Trust me, it really is a nightmare to get them well stacked again after dropping them, especially if you are in a rush and on your way out.
DIY your hat stand
You probably have a wooden flower vase that is aging fast, although you still do not want to dispose it but you surely know that its work is done. Well, maybe not, this vase might not really be useless.
How about you paint it into your favorite color and then have it joined to a wooden soup bowl for a perfect hat stand?
This is truly a craft that you want to not only take part in making, but also add to your collection of things to admire in your room. It will surely transform your room and bring back that flower vase's life that you just do not want to end.
Pros
This is a great way to put back into use (with style) an old flower vase, cheap and effective.
Cons
It might only work as a storage for summer and beanie hats while not for baseball caps.
Transform your book shelf into a hat rack
You might probably be thinking that this is the most absurd idea ever. How can you have your hats (of all things) hats take up your books' space (literally)?
Well, they can. Especially if you don't have many books to fill up your shelf. Transfer this shelf to your room if you do have the space and stack up your hats.
Pros
This is an efficient way to use your book shelve, especially if you do not have many books to fill up the entire shelf.
Cons
If you do not have the space for the book shelf in your room, you might have to take your hats to the library room or hallway (depending on where you place your book shelve), which might be an inconvenience to you.
Antic Art Display
If you have an antic art piece at your hallway that probably has some hanging unused hooks, then look no more, you do have yourself a hat rack already.
However, if you do not want to take away the pure awe that it brought about by your antic art piece by having your hats hanged onto it, then I totally understand and this option may not be for you.
Pros
This is an efficient way to store your hats, using a storage device that is already available, and therefore you do not have to spend extra.
Cons
This may take away the pureness of your antic art display.
Wall Shelf
Have your hats beautifully displayed on your wall shelf. This is an elegant add to your hallway, bedroom or closet room.
To make things easier for yourself, make sure that you arrange them in a specified manner (if they are that many) that you can recall, such as your black hats together in a column and your blue hats in another column.
This will not only make it look organized, but save you a lot of time in future as well.
Pros
It helps to retain hats' shape
It is also a storage alternative that makes it easy for you to pick out a specific one that you would like, when you want it without wasting too much of your time.
Cons
Due to the kind of space that it requires, it might not work for you if you have a smaller house.
Baseball cap storage case
You could have your baseball caps stored in a storage case, specifically designed for that purpose. This really is a gift for especially the baseball cap lovers.
Pros
The baseball cap case has the right amount to space, thanks to the customized case
The case can be closed to prevent your caps from getting dusty.
This is also such a great possession just in case you plan to move houses or even go for a trip. If you want your caps with you, then you could easily bring them along without having to worry if you will get to your destination with their shapes intact.
You could fold in your beanie hats into your case, if there is some space left.
Cons
The baseball cap case could only be a smart buy if you own many baseball caps
It might also only restrict your storage to baseball caps and beanie hats, as it could not accommodate sunny hats.
---
Have your hats placed side by side or vertically with some reasonable amount of space in between, to ensure that they maintain their shape. You could also have them covered just to ensure that they do not get dusty. It really is just that simple.