TSP Home Decor – The heart of a home is located in the cooking area. Even though the function is not as exclusive as a washroom or a toilet could offer, or it does not provide a wide range of entertainment like in your living room, you cannot ignore the presence of a kitchen in your house.
This area will maintain the health of everyone in the house. Besides, what would you do if there is no kitchen in your house?
In this article, we are going to discuss the corner kitchen sink. Some people think that the space in the corner of the kitchen can only be used for stacking things or showing your favorite displays.
Rustic Industrial Corner Kitchen Sink Ideas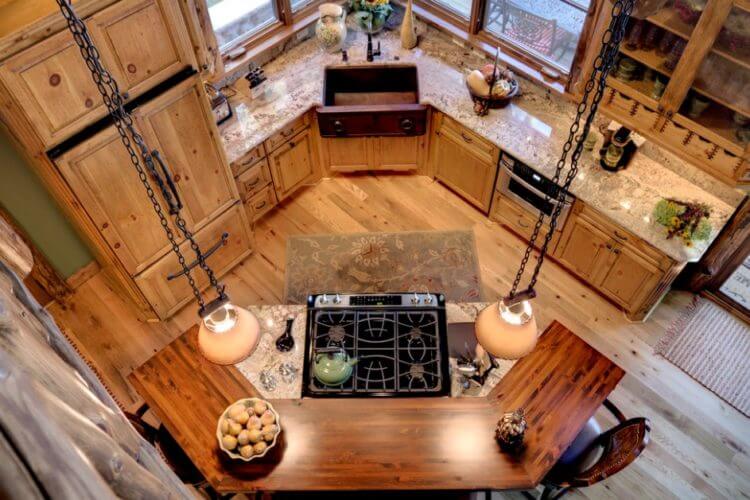 Most designers will put a window near the kitchen sink because washing dishes could be one of the most boring activities.
This design we can see in the picture gives anything that ever wanted by everyone who washes dishes.
Wide windows in the corner give better access to see the outside world.
Other than that, the rustic-industrial style applied in the kitchen creates the warmth.
The combination of the natural patterns of wood and the sturdy metal is simply beautiful, not to mention the great lighting fixture and placement.
Clean and Nit Corner Kitchen Sink with Granite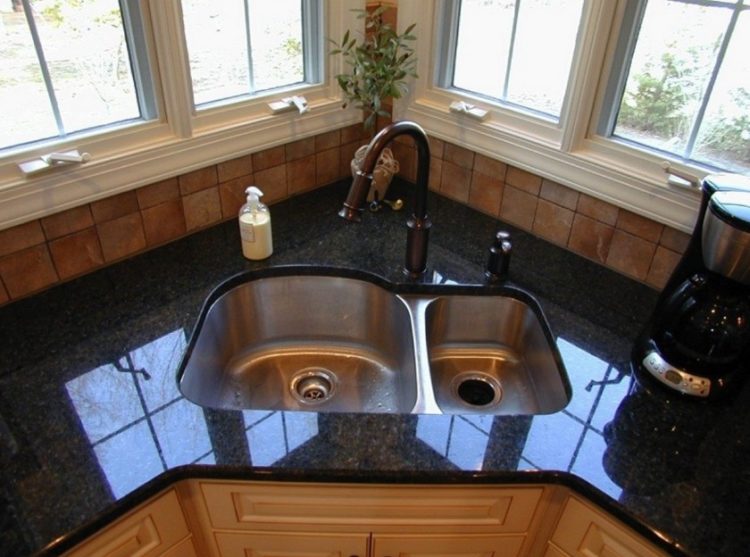 Granite, in fact, is one of the most expensive materials on the market especially if you use the real granite.
This material gives the elegant look that could match with any kind of interior style and you can pair it with any color.
If you want to keep the corner kitchen sink in the simplest look, you definitely should try this idea.
The presence of the windows gives the access to you to see the outside world.
And since granite can be paired with various materials and styles, the vintage style will have no problem with that.
Granite, on the other hand, is easy to clean if you spill water on it.
However, it will leave an unpleasant stain if you put something oily on it. It may also require coating every two years to keep the shiny and elegant look.
Minimalist Corner Kitchen Sink with Two Bowls
A corner kitchen sink with the intense shiny coating may look pretty elegant and neat.
You can use quartz, fiber, or other materials for the surface as long as it supports various finishing types.
However, it might be a bit unpleasant for you who adore something more aesthetic since this example only stands for three things – form, follow, and function.
Still, this option may seem inviting for you who adore it since it looks very modern, simple, and futuristic.
But this type of surface for a corner kitchen sink might make the spilled water becomes a notable stain if you do not immediately clean it.
It also is easy to get chipped and scraped especially if something hard hits the surface.
3-in-1 Corner Kitchen Sink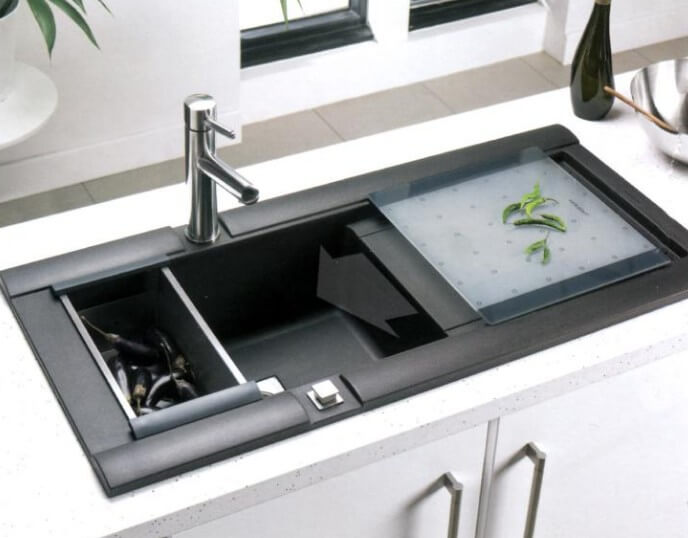 This corner kitchen sink can be used for washing dishes, washing veggies in the small box on the left, and chopping the ingredients without occupying other space in the kitchen.
It may come in handy for you who do not like to waste space. It also looks appealing to you who adore the minimalist style.
However, this design could make scratches and dents become noticeable.
Besides, the spilled water spots could stay there if you do not immediately wipe it.
If appearance is something on your list then this corner kitchen sink is not really suitable for your style.
Ceramic Corner Kitchen Sink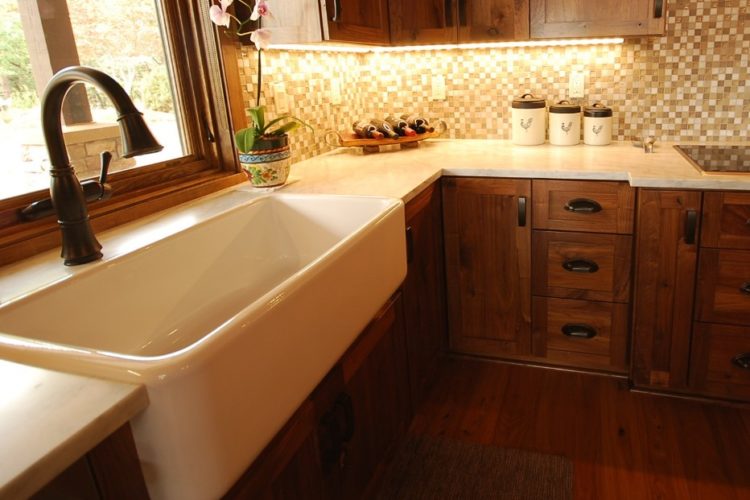 Using ceramic material for a kitchen sink could be a great idea and vice versa.
In the picture above, the ceramic sink really complements the whole kitchen.
The clean and shiny white color looks clean and warm combines with the wooden cabinet.
The mosaic tiles for the backsplash are also a great idea to bring the classic style to the surface.
A ceramic kitchen sink is friendly for the budget especially if you adore the classic vintage style that is more likely using the fireclay which could wreck your wallet.
Besides, ceramic is easy to maintain. Stain resistant is just another good thing you need to know about this material.
However, it could not stand too-high temperature.
Other than that, this material is prone toward scratches, cracks, and chips.
So, if you are the kind of a clumsy person then this material is not the best option you have.
Multi-Bowls Corner Kitchen Sink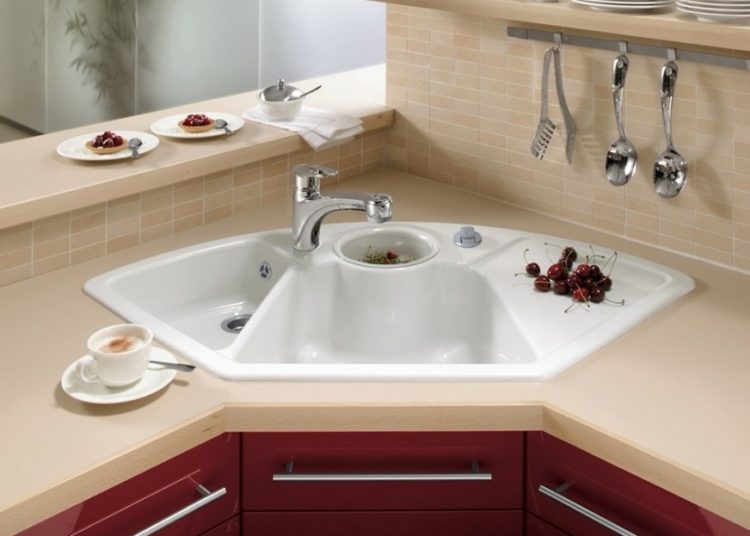 For the sake of multi-functionality, manufacturers make so many innovations.
One of them is the sink we can see in the picture above.
This sink will be suitable for you who only wash a few dirty dishes because if you love to cook a grand meal, this sink would not optimize your work.
Still, it looks nice and catchy for a minimalist or contemporary style.
This sink might also work for you who love to have a sink in your mini pantry.
Stainless Steel Corner Kitchen Sink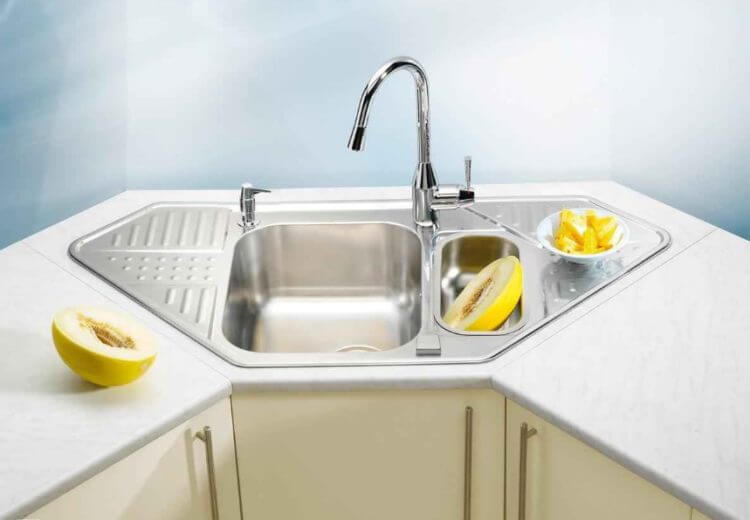 Stainless steel is the right material for you who look for an affordable yet low maintenance sink for your kitchen.
In fact, this material has various options and styles offered for you which mostly matched with the modern and minimalist style.
This sink is affordable and will be the most versatile material.
Besides, you can clean it easily with low maintenance as well. However, it could get dents if the material is thin.
On the other hand, if you want a better quality then you need to pay for a higher amount of money. Stainless steel also creates noises.
More Pictures and Ideas of Corner Kitchen Sink

howwewokeup.com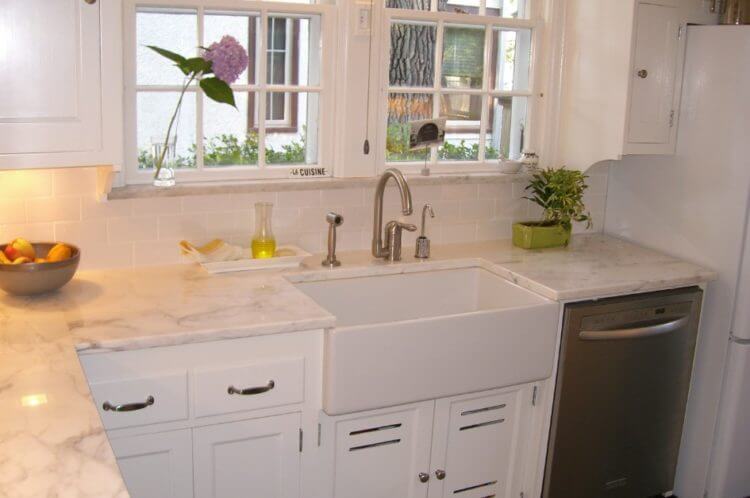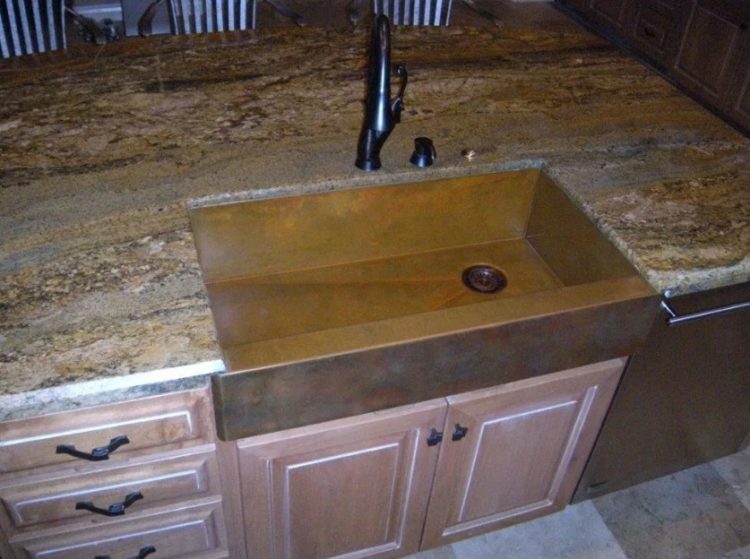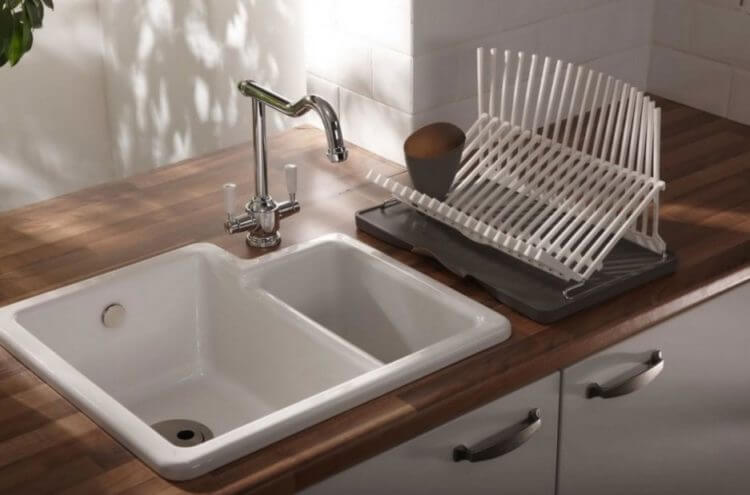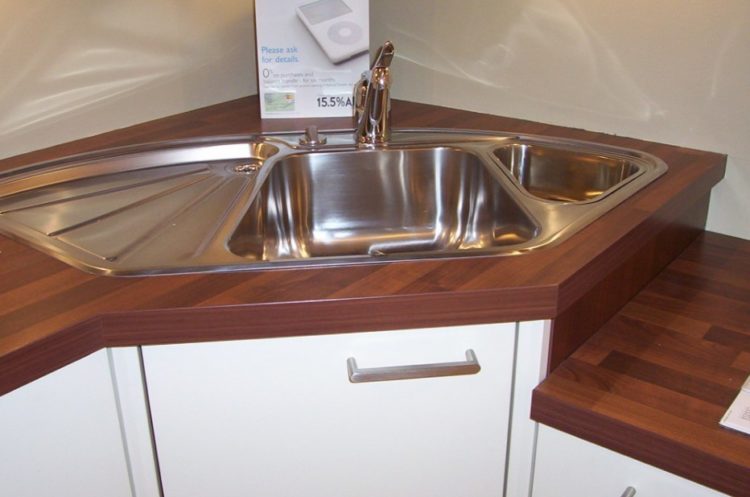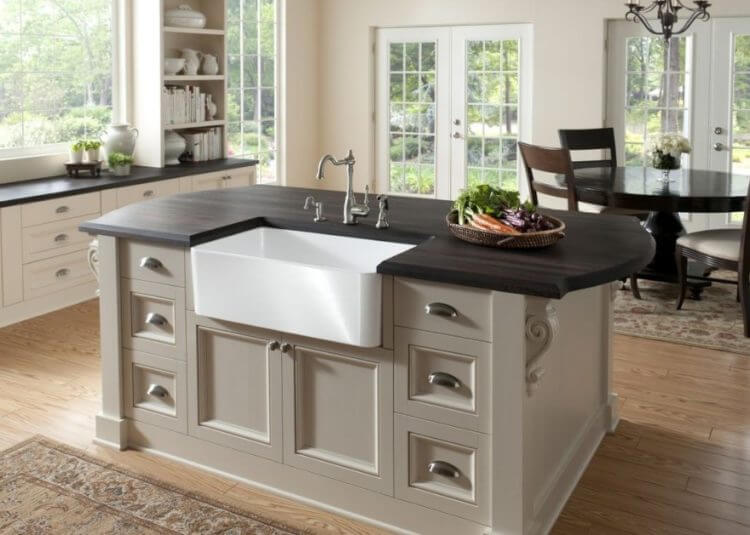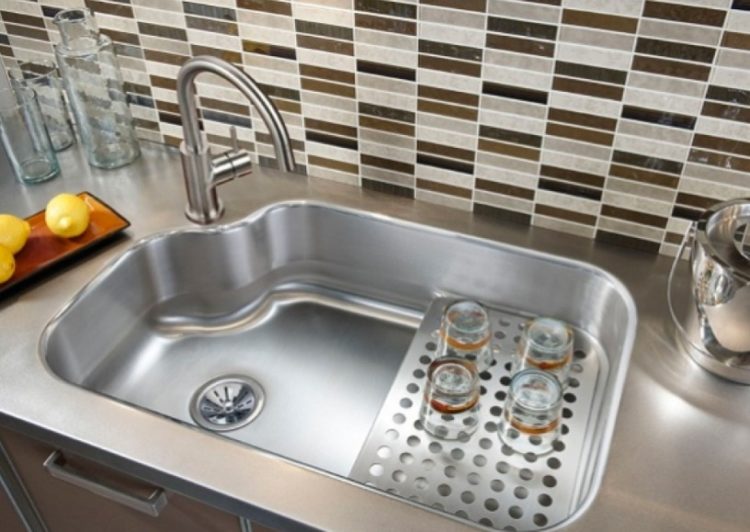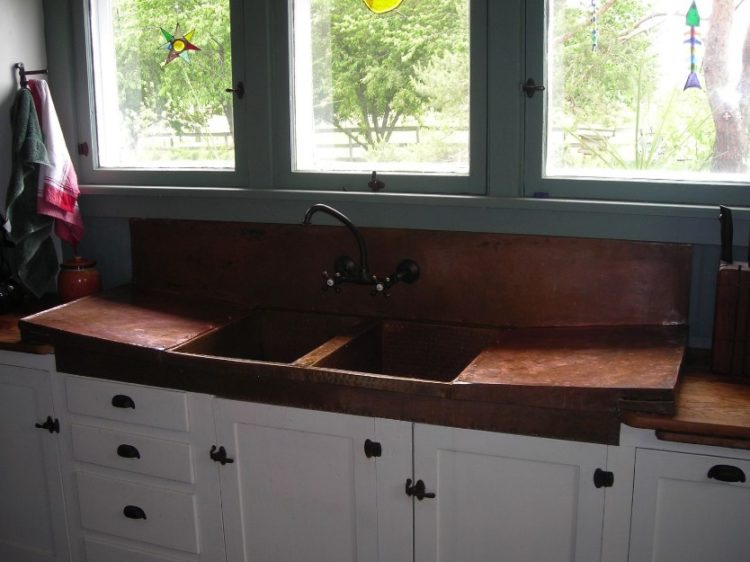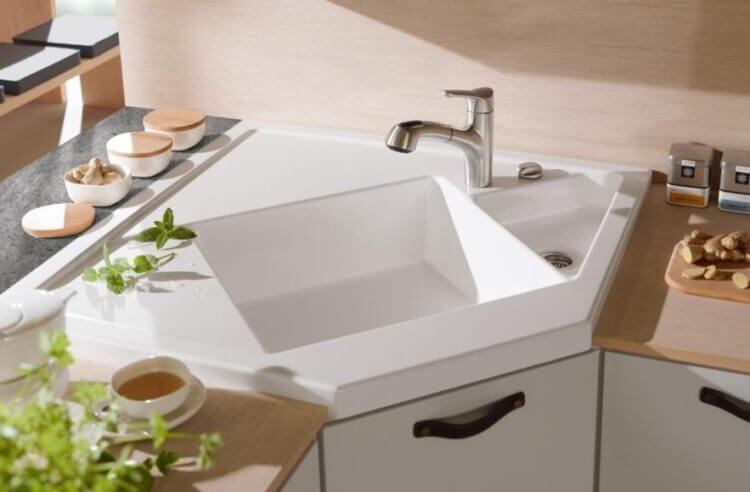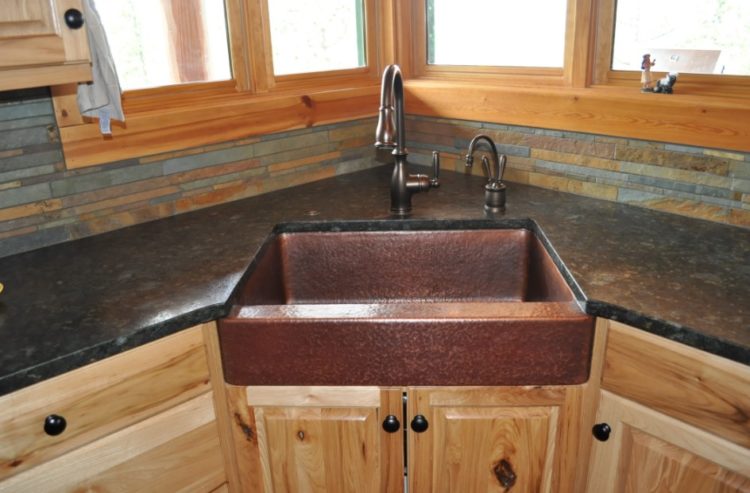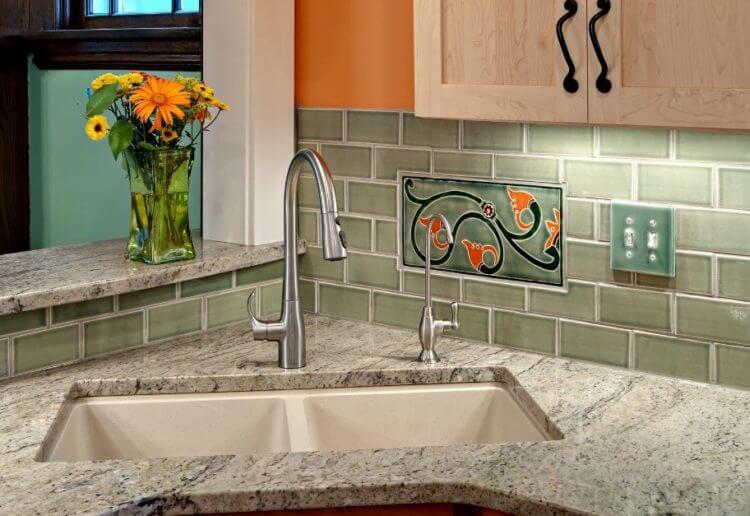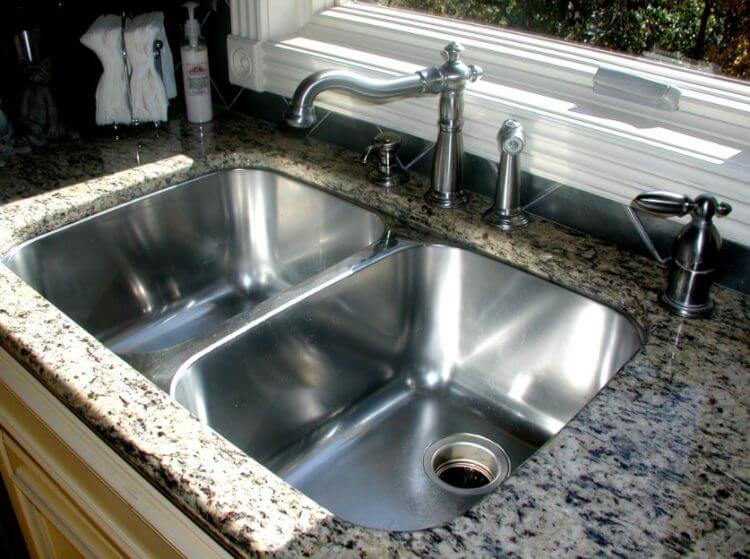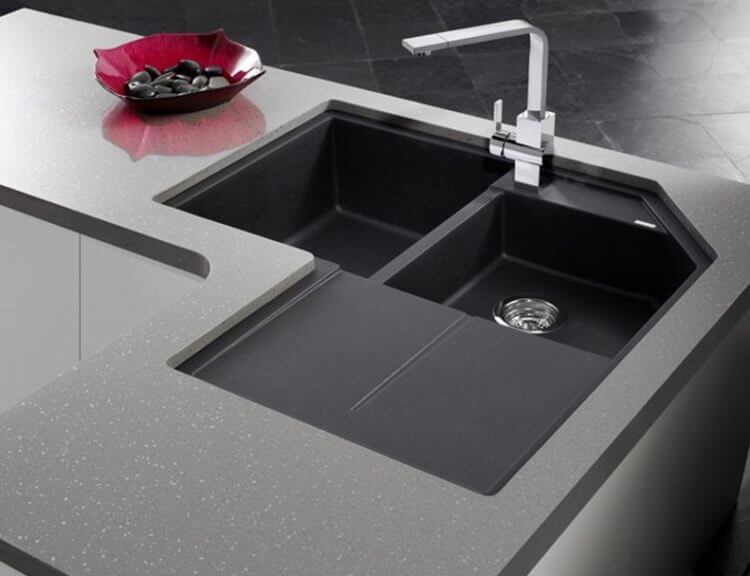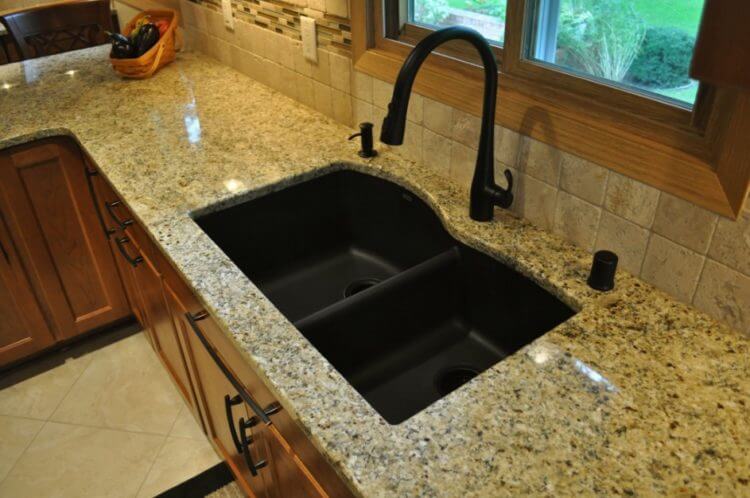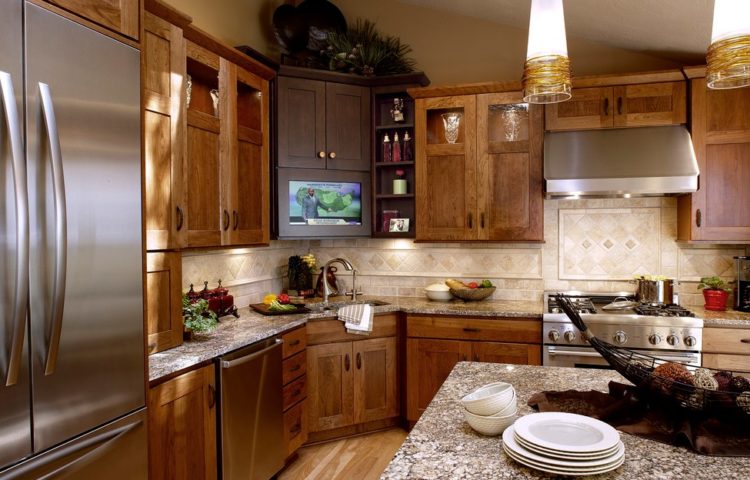 Conclusion
There are various materials for sink available on the market. Each material has its pros and cons which you need to consider before choosing one of them.
Stainless steel could work really well with various interior styles not to mention its affordable price and the wide option range of shape and size.
However, if you adore something more aesthetic then you need to think of another material for your corner kitchen sink.