DIY Pegboard Ideas – Pegboards are important for organizing your stuff in a creative manner. Keeping your tools, books , clothes and other stuff properly arranged , cleaned and maintained will save your time, money and make your endeavors more rewarding.
You can store not only hand tools, power tools , garden tools but also arrange tools of your choice as kitchen knives , crafting tools or whatever else. Pegboards increase your storage system by utilizing space in a pretty efficient way.
You can see all of your tools at a glance. If you dont have enough wall space then you can utilize begboards by building a hinged system , a ralling begboard and portable begboard storage system.
[toc]
Elegant Multiple Tool Pegboard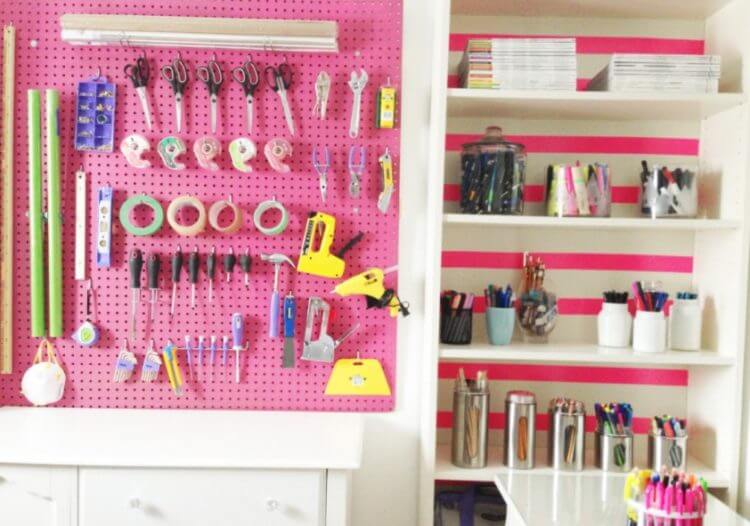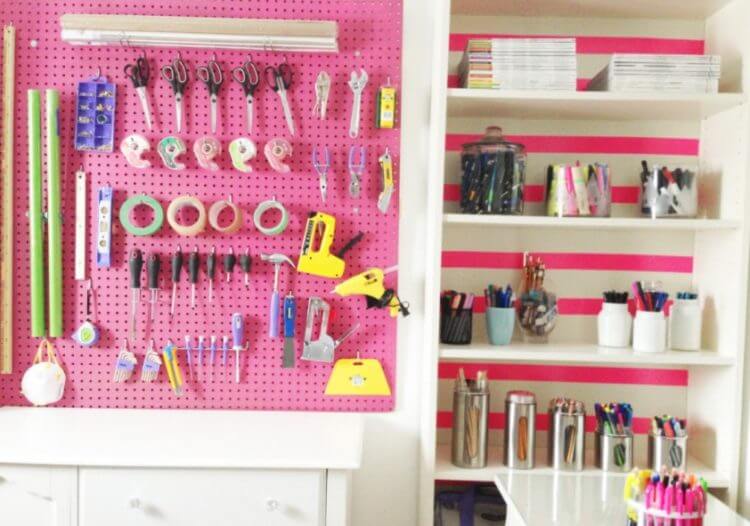 What's better than a pegboard which can carry many of your tools and still require a small place for installation. EMT pegboard is attractive and its size is its iconic trademark. It can be used at any place you want and it does not require much space. It also has the tendency to carry many heavy tools and stuff you want it to.
Unique Hangman Pegboard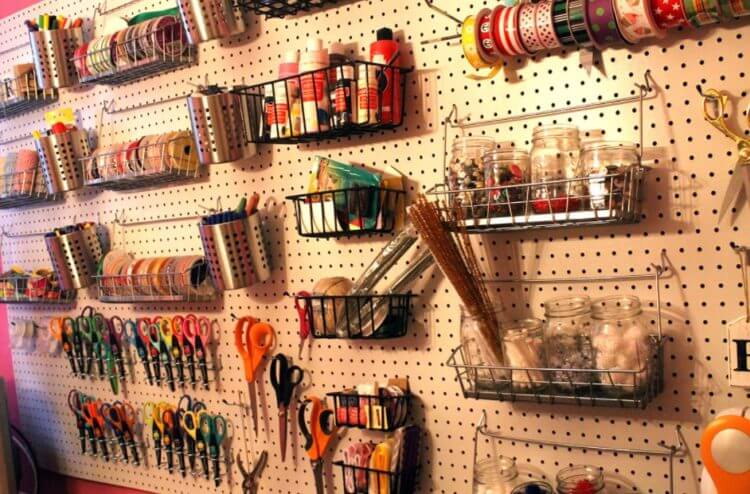 This attractive work of designing is the pegboard which will help your life in many ways. It can be used to add portable hangars, boxes, hooks or simple nails for hanging whatever stuff you want. It has a rectangular shape and its size is so unique that it can accommodate almost each and every thing you want it to handle. It adds a unique sense of attractiveness to your style.
Stylish Rainbow Pegboard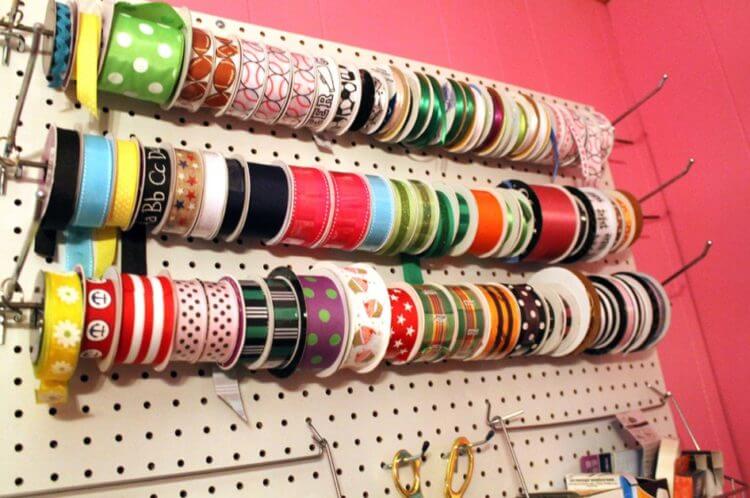 Do you want to arrange your wrapping ribbons or some other stuff in a more attractive way? Well, this pegboard answers your call. It is attractive, simple to install and it can accommodate many ribbons at the same time. It is highly reliable and requires a little space for its installation. It can be used at your working place, at your home, or at gift stores whereas it can also be used as a decoration piece.
My Versatile Pegboard
Ever seen a pegboard which can be used for multipurpose? Well, Versatile Pegboard is that. It has a lot of area and its rectangular shape allows it to fit on a wall efficiently. Portable shelves, steel hangers or hooks can be added at any place on it. Its size is admirable as you have so much space for settling almost everything in it, ranging from jars to boxes, from tools to paint brushes and from shelves to hooks.
An Artist's Toolbox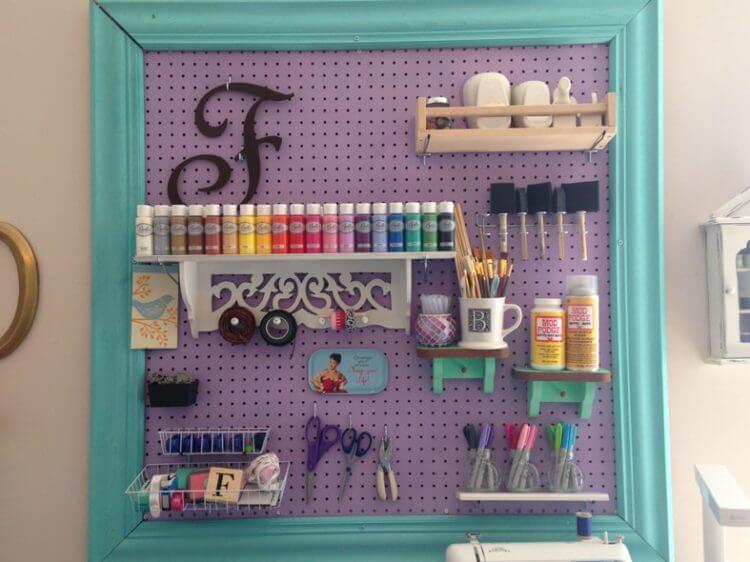 For all those artists out there who are in need of making their workspace easily accessible and who want to arrange their equipment efficiently. The Artist's Toolbox is the pegboard which is designed in an elegant way to accommodate any working material you want. It is bordered with a frame and the user can attach small portable shelf to it. Having only one installed, an artist can effectively save a lot of his space and can easily arrange his or her stuff.
Unique Horizontal Pegboard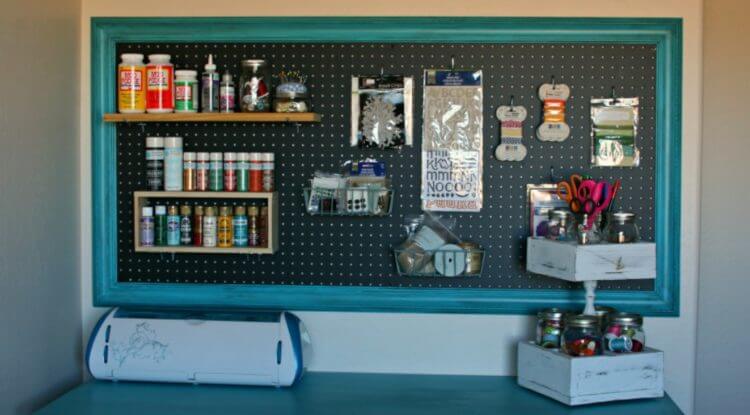 If you need a pegboard in your shop or you want want one at your home, then we will highly recommend you to go for Unique Horizontal Pegboard. It looks like a big horizontal portrait, but it also has the ability to accommodate your stuff and add a unique attractive look to your working space. It is bordered by a sky blue frame. Users can also add portable shelves or hangers or hooks; whatever they feel feasible for their own assistance.
Handy Pegboard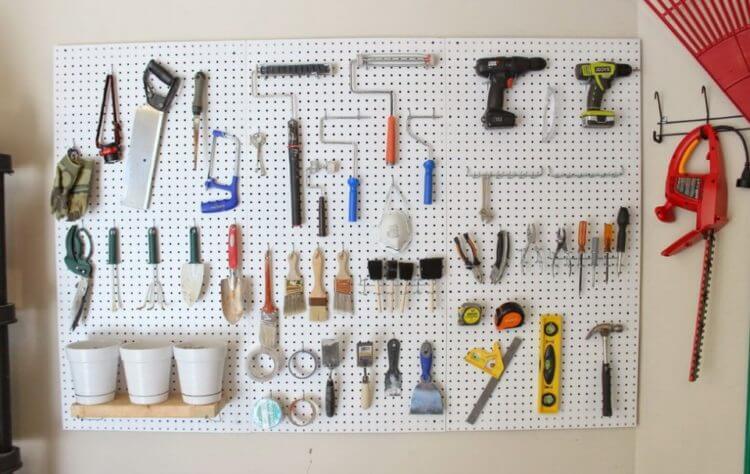 If you are a handyman, a plumber or a shop owner who wants to sell tools, Handy Pegboard will be the most appropriate for you. It has a lot of space and it is easy to install. It can carry any equipment you want it to hence you don't need to worry about your equipment's safety because handy pegboard is designed to ensure its unique strength. For further feasibility, you can divide the pegboard into sections and add your favorite tools to it.
Your Dream Pegboard
If you have always wanted a pegboard to add more style to your home or working place, Dream Pegboard answers your call. It is designed to fit in the places you have left for pegboards. It is bordered by a white frame to make it safe to install, allow strength and add style to it. It has a vertical inclination so you can add tools vertically or in any way you like.
School Kit Pegboard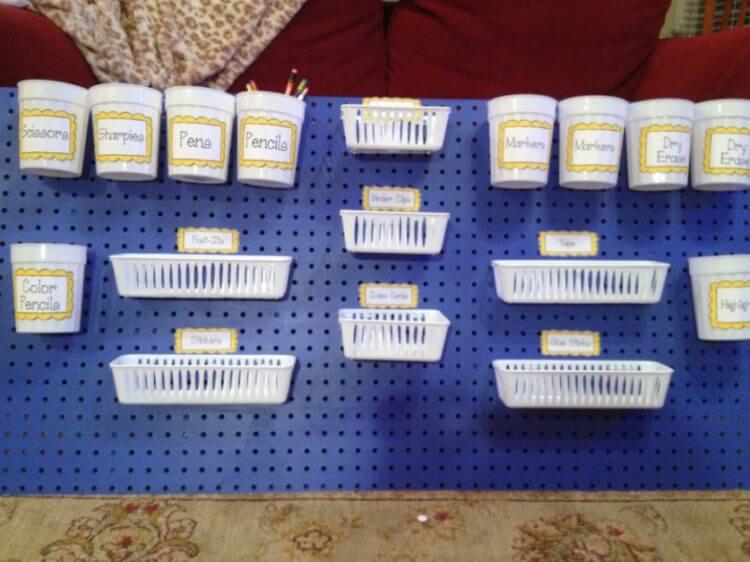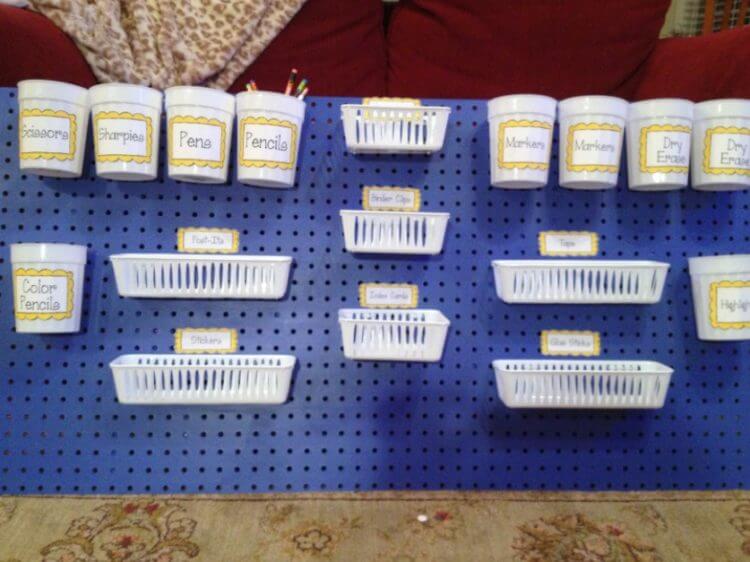 If you are looking for a suitable place to arrange all the material your children uses for their homework or for personal education than school kit pegboard is your solution. It provides all the space you need for arranging the study material. You can attach portable boxes and baskets to the pegboard and it is quite safe even in the present of young children. It is a fine work of art and labeling can also be done to make things much easier.
Easy Utensil Pegboard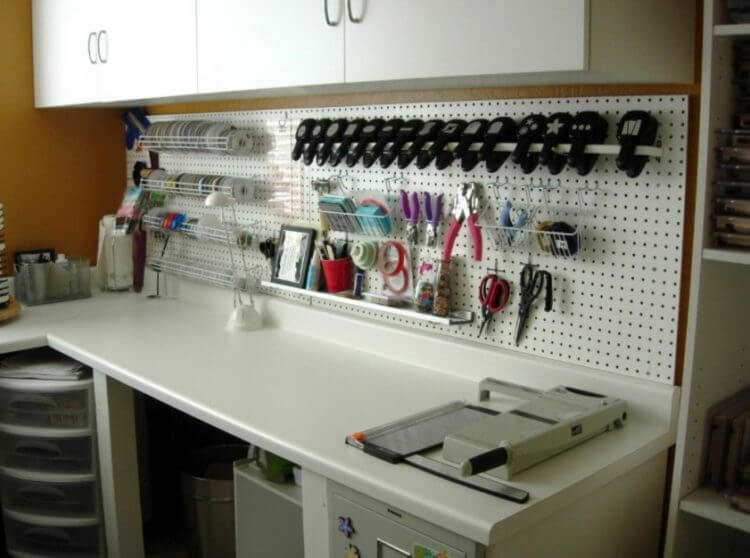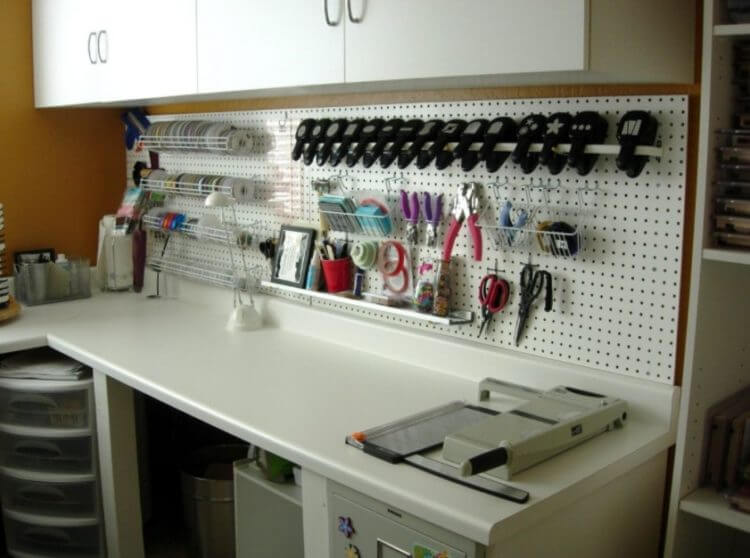 Ever spent too much time looking for your utensils while working in the kitchen? Well, not any more as the easy utensil pegboard will do it for you. With portable stands and hooks, you can literally place all your utensils in the specific order. Since, they remain in front of your eyes, you don't have to search for them in the cupboards or other places. As the pegboard has white colour, it will add more attractiveness to your kitchen.
Designer's Workstation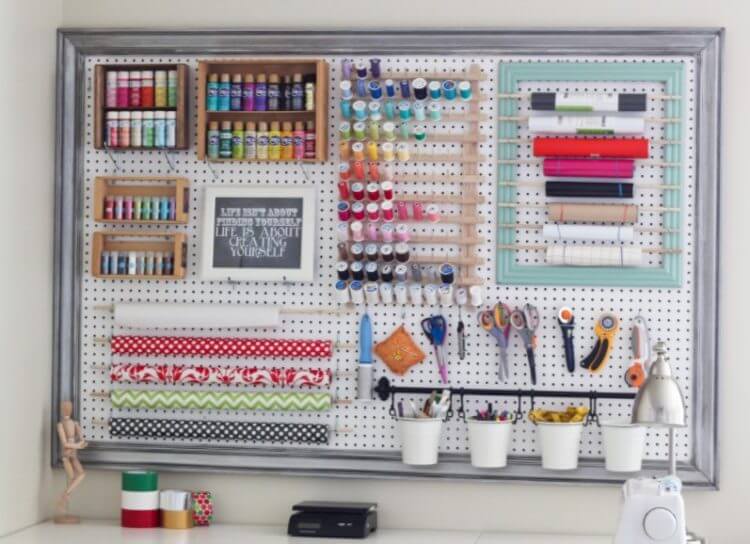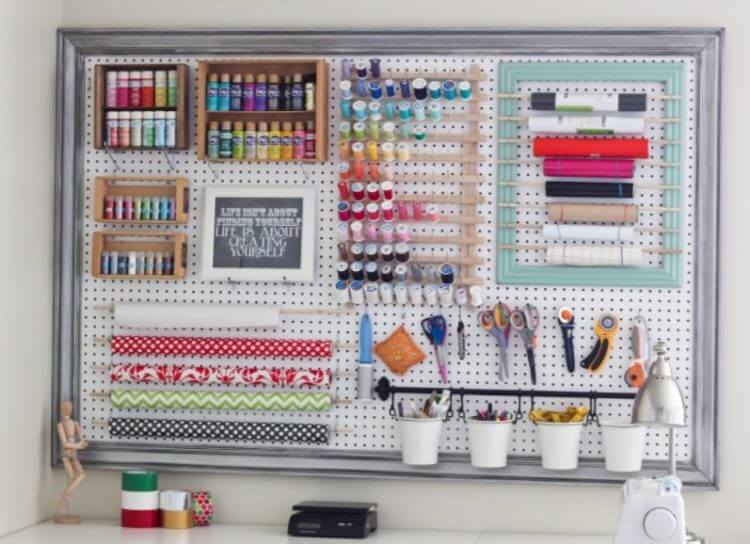 This pegboard is unique in its usefulness if you are a designer or a student of the arts. The pegboard is bordered by a frame to add strength and attractiveness to its style,whereas it has the ability to hold a lot of material in your rooms or workstations. The rectangular shape does not consume a big part of the wall and provides maximum space to hold your stuff easily. Its color makes it unique in its selection as it adds an appealing effect to the outsider.
Aesthetic Lounge Pegboard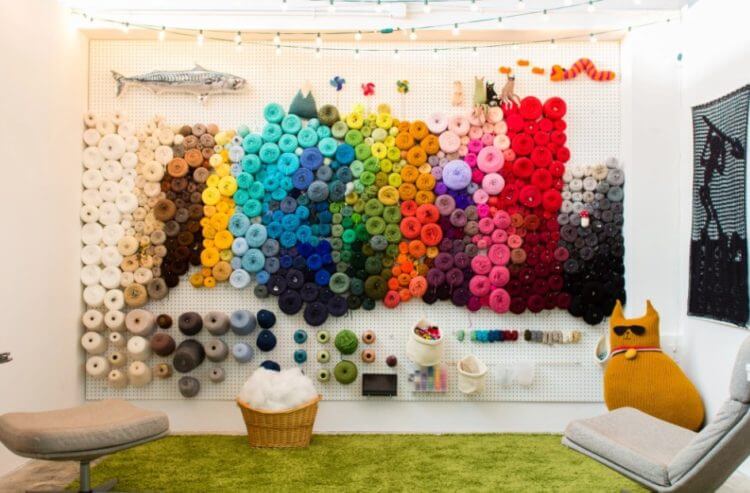 If you are in search of something that can add more attractiveness to your office or living room, you should always consider the aesthetic lounge pegboard. Its size makes it feasible to cover approximately the whole wall. You can add hooks and different nails for attaching some decorating material to it. Like in this case, different colorful fabrics have been added. The color is attractive and it gives a more colorful effect in the presence of white light.
My Room Pegboard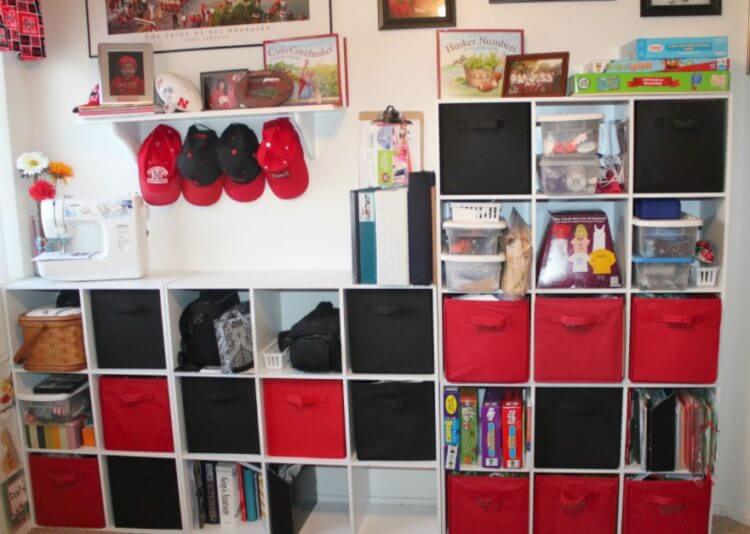 This pegboard is designed to be used in your rooms. They have a style which makes them less noticeable and still they can be used to add more stuff than you think. You can hang your clothes, caps or portable shelves to them etc. They help you manage stuff and add more sense of style to your rooms or places where you want them to be. They are unique and highly durable.
Easy Updated Toolbox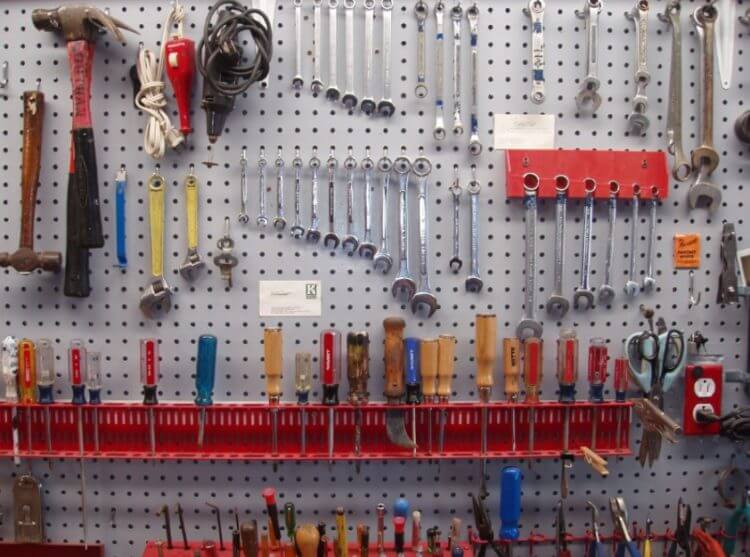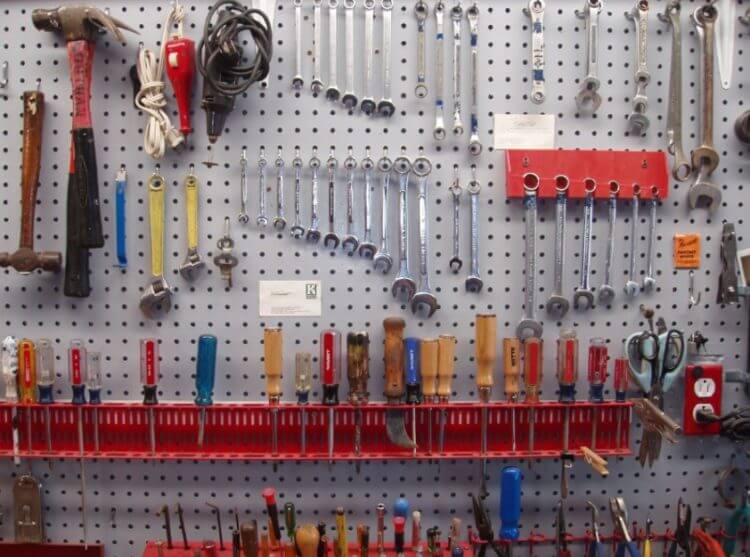 If you are a worker or looking for something useful in your garage for your tools, the Easy Updated Toolbox is the right option. It has the uniqueness of a structure that supports the weight of any tool you attach to it. Portable baskets and hooks can also be attached for further assistance. It has an admirable size which makes the attractiveness of your working place more appealing. Having this installed, you do not have to worry about the location of your tools.
Ease At Home Pegboard
Ease At Home Pegboard is a versatile pegboard. Be it your kitchen, working table or living room decoration; this pegboard has the ability to perform any function you require for it. It can carry your utensils, clock, scissors, portable baskets, hooks and maybe everything. It is designed and is present in various colours so that it can be used in different places efficiently. The basic function is to make the user's life easy and comfortable.
My Toy Pegboard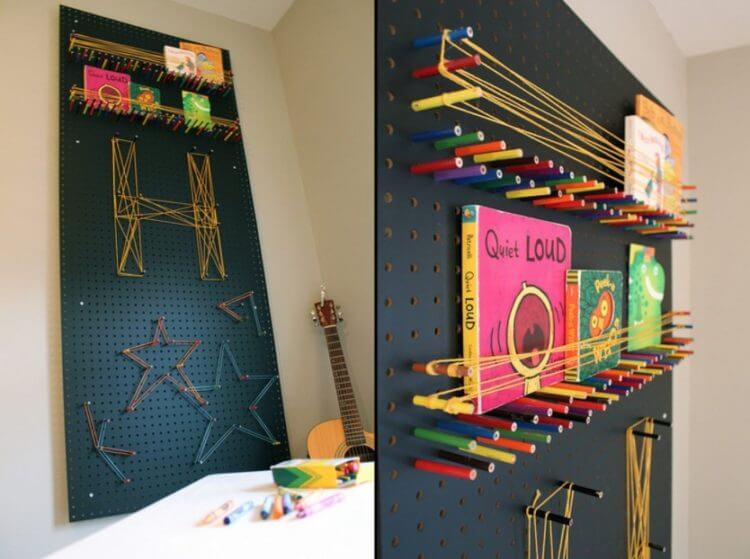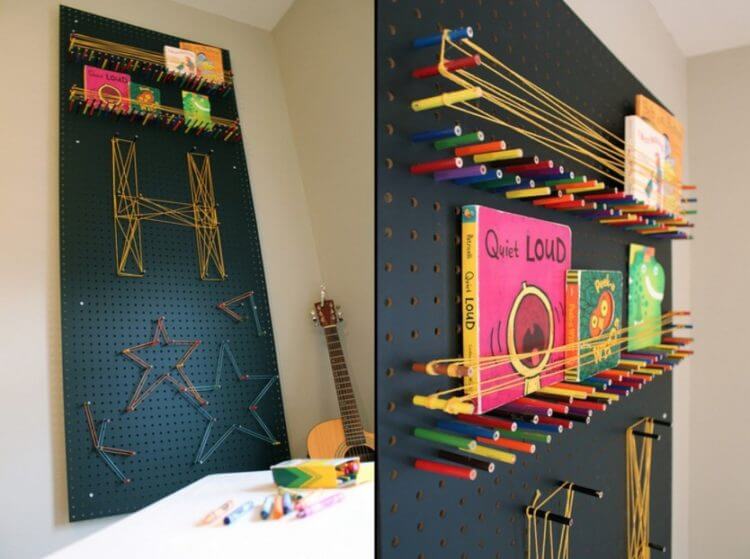 My Toy is one of those pegboards which are only designed to add an aesthetic style in your life. With the help of hooks and ribbons, different shelves can be created. These shelves can then be utilized for placing children books or making textures. Its uniqueness lies in its design. It is vertically long and usually gives an impression of a decoration piece whereas it has also the ability to assist in many functions.
Moving Toolbox Trolley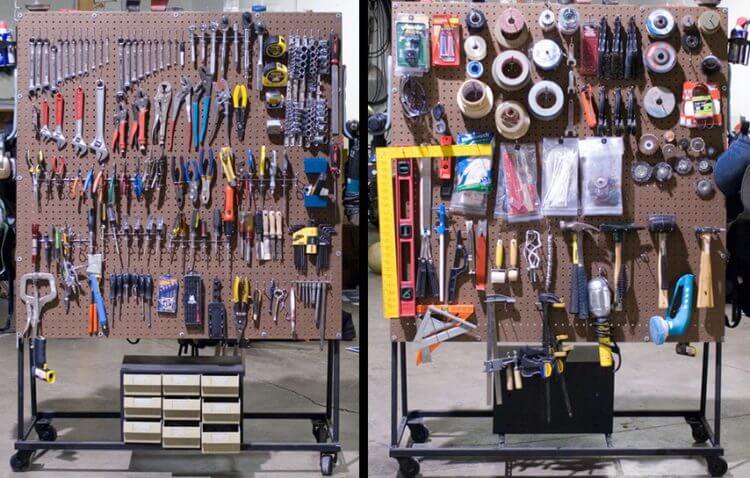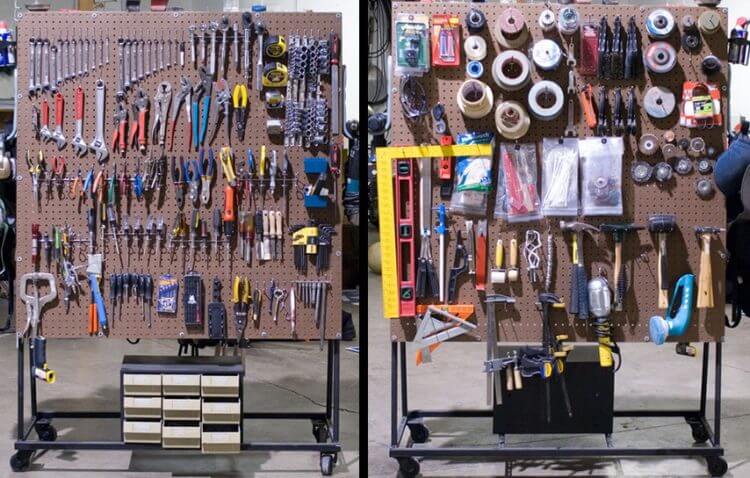 Ever searched for a toolbox which can carry almost the whole family of tools from one place to another? Well, moving toolbox trolley is your answer. This pegboard can be attached to a moving trolley stand. It is designed to be unique in its functions and it has multiple slots for putting various tools efficiently. Its strength makes it easy for upholding heavy tools as well as light ones so that you don't have to worry about the safety of your tools.
Artificial Garden Pegboard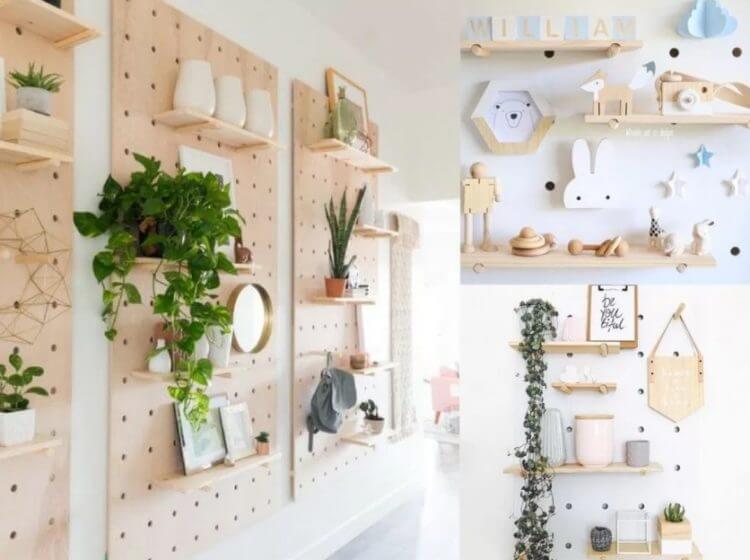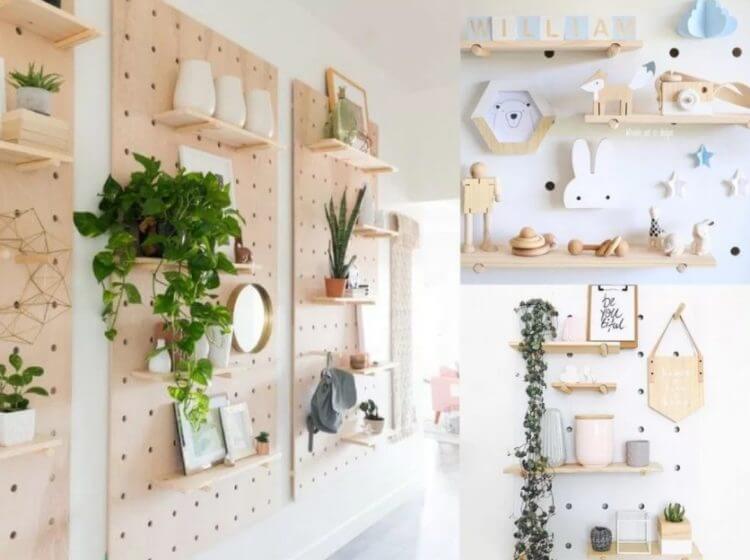 If you don't have enough space for a home garden, then why don't hang them or place on shelves on this artificial wooden pegboard. It has the texture of wood and it can be installed at any place. Portable shelves and hooks can be added to form shelves which can then be used to place pots and plants. It is so attractive in its presence that if multiple similar pegboards are used, then it might invent your own artificial garden.
Lobby Pegboard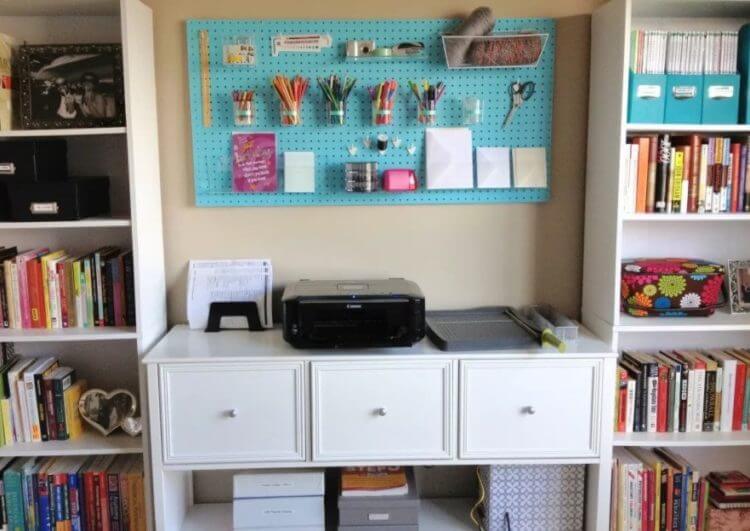 This pegboard is designed to add an effect to your bookshelves. With the ability to be placed, between the bookshelves, it may generate a beautiful effect for your study or library. It comes in different colours so you don't have to worry about your library's attractiveness. You can add pencil boxes or portable baskets to further assist in your library becoming more attractive or workable.
Dressing Room Pegboard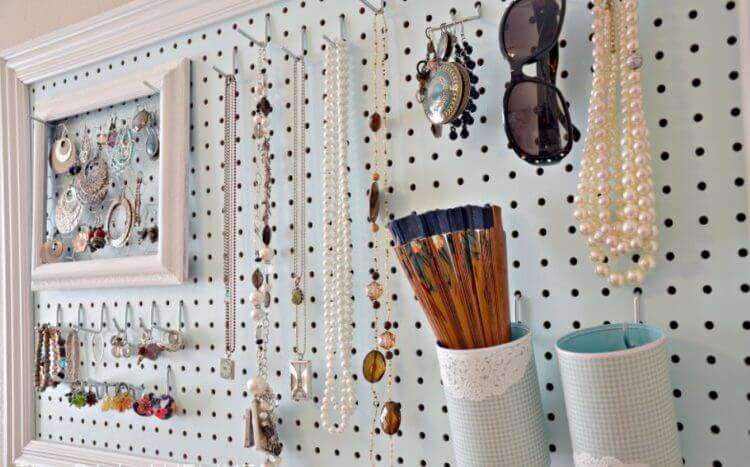 Looking for a pegboard that can be installed in your dressing room to assist you in getting ready for the day to day duties? Well, the wait is over as we bring you the Dressing Room Pegboard. It is attractive and it is highly functional in arranging your jewelry, makeup kit or glasses, etc. It is usually bordered by a frame to make it strong so that it can withstand weight. The frame also adds an aesthetic style.
Multi Tool Garage Pegboard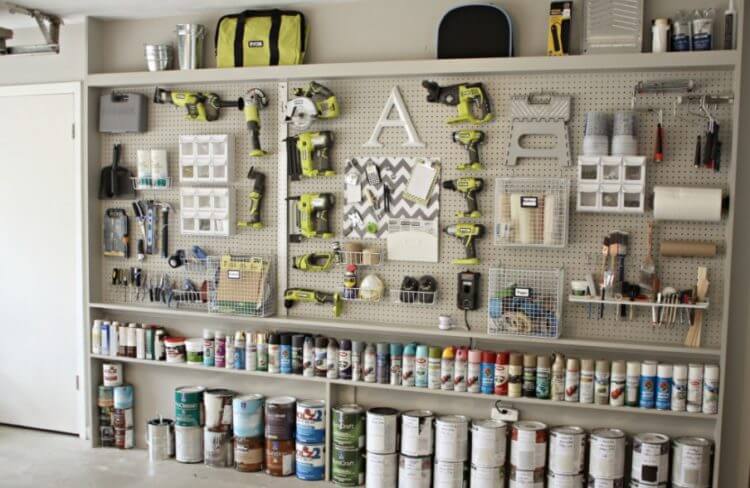 This pegboard is efficient for heavier weights. It is easy to install and gives an attractive look to your garage. You can use it for multipurpose such as hanging tools, creating portable shelves and putting paint baskets.It is easy to maintain and has its own unique style. It can also be used in shops or working stations and it is easily accessible making it easy to maintain.
In-Built Cupboard Pegboard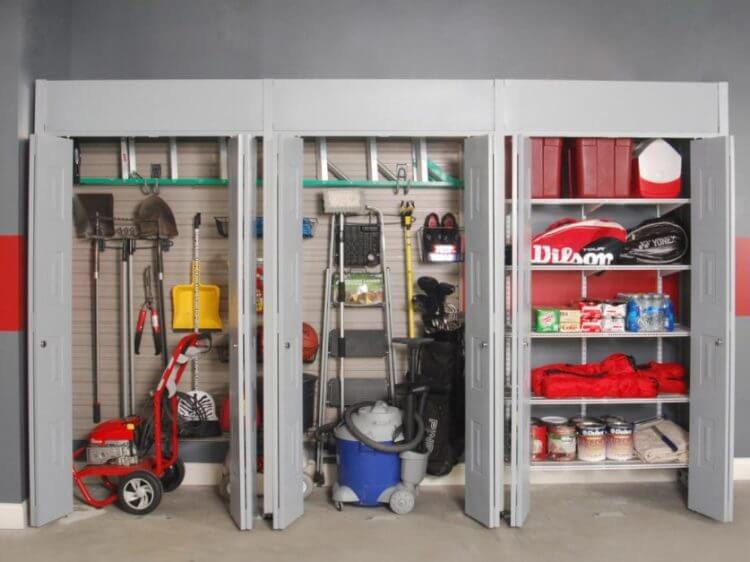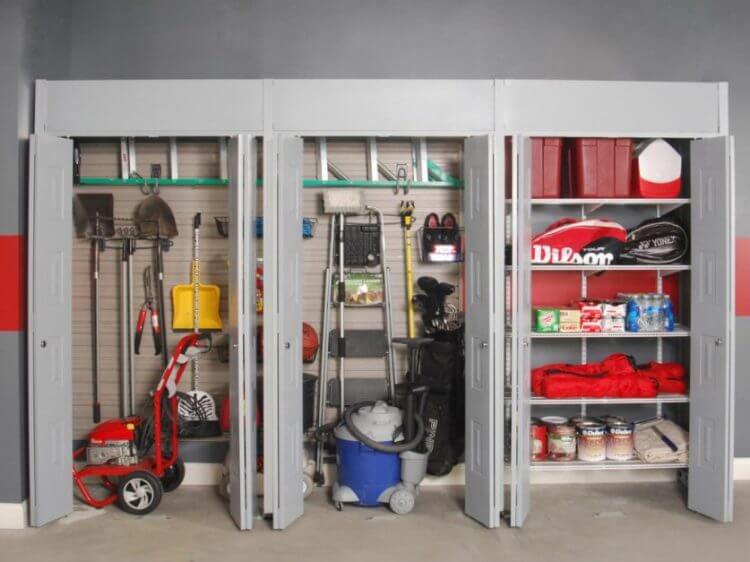 The In-Built Cupboard is designed to facilitate your equipment when you have to place it in a cupboard or behind doors. It is highly efficient as it does not allow your equipment to fall and remain in the specific arrangement you want to be. It gives your insides of cupboard an artistic look and it looks more attractive and well maintained. You can use it in your storage rooms or anywhere you seem feasible.
Garage Pegboard Walls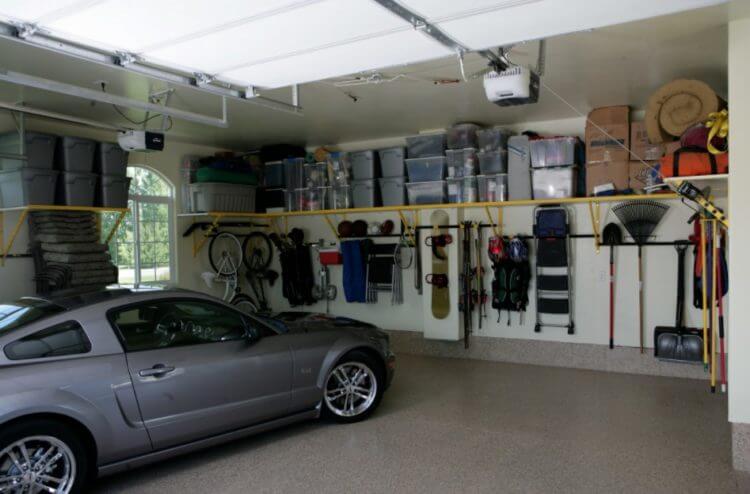 If you want more space for your garage and your equipment to be in order, Garage Pegboard Walls are the most suitable. You can install these pegboards on your garage walls and then attach portable stands to them for hanging your equipment as shown. You can then hang shovels, bicycles or skate boards, etc. for your own assistance. It is durable and highly efficient as it keeps them there and gives your garage a clean and neat look.
Get More Space Pegboards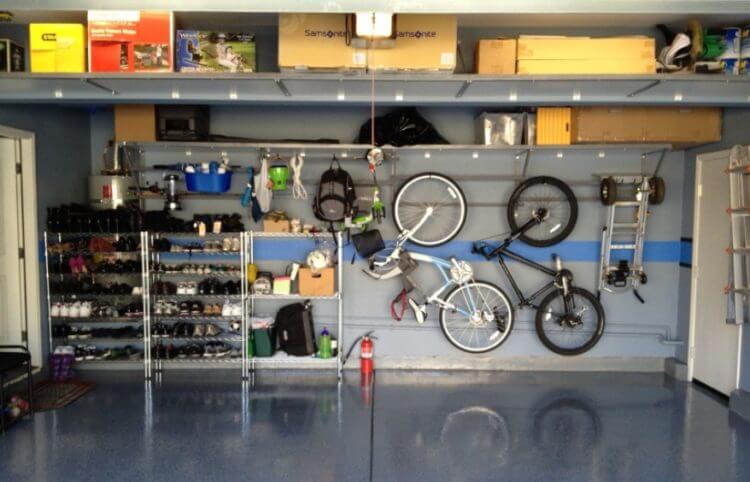 These pegboards are installed on the walls for tools or equipments that you think can cause scratches on your well furnished floors. You can attach heavy equipments to them such as bicycles, school bags and cans etc. These pegboards are strong as they can endure heavy weight of equipment. It allows you to have more space in your room or garage, wherever you install them. They can also be used in shops to accommodate more equipment than before.
The Janitor's Pegboard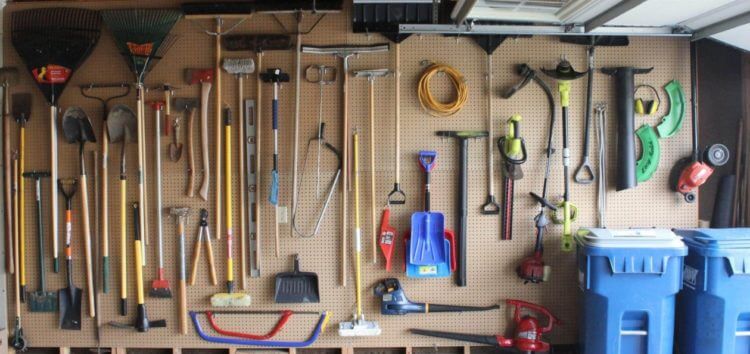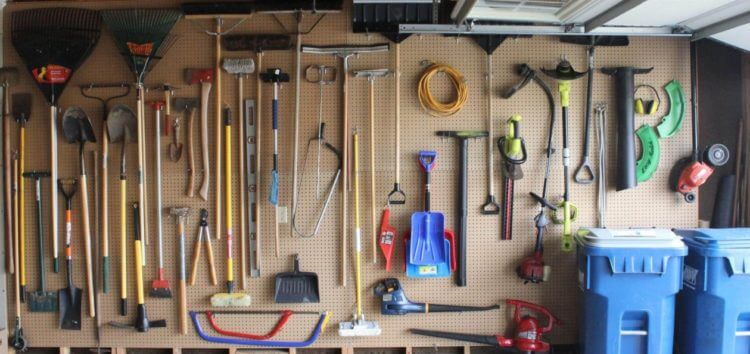 If you are looking for a place to hang all your home caretaking tools that you use only in some specific seasons, Janitor's Pegboard is highly efficient. It has the tendency to carry a lot of equipment such as shovels, mops, brooms or ropes, etc. Since you do not need these tools everyday, you can use the pegboard to arrange them efficiently and in order. This provides you more space in the rest of your area.
Multi Coloured Pegboard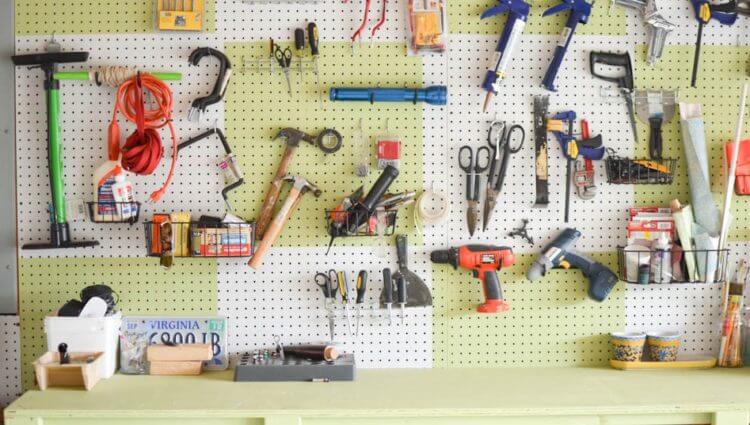 The pegboard is divided into sections with its colors so that you can arrange stuff or tools accordingly. It has an interesting style, making it feasible to be used anywhere you seem appropriate. It can carry a lot of tools and it is multiseason used. It is attractive due to its colors and gives an aesthetic view about your place. It also helps you manage a lot of stuff and space at the same time. With its durability, you can rely on its strength for its use.
In Built Toolbox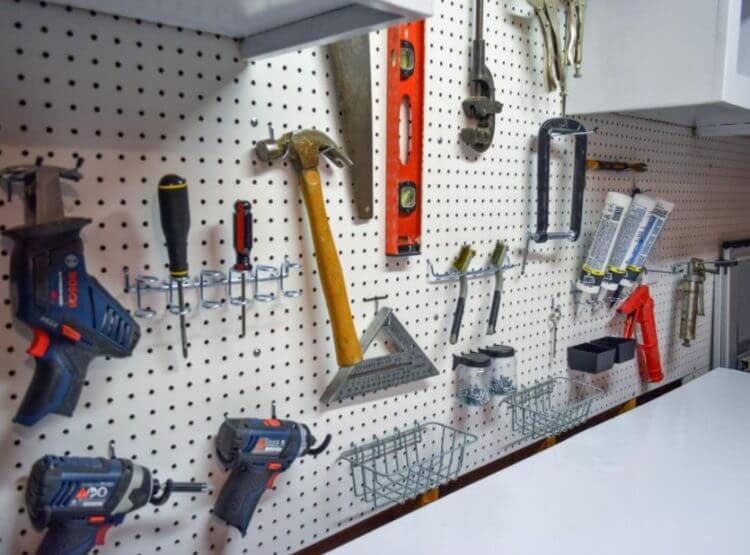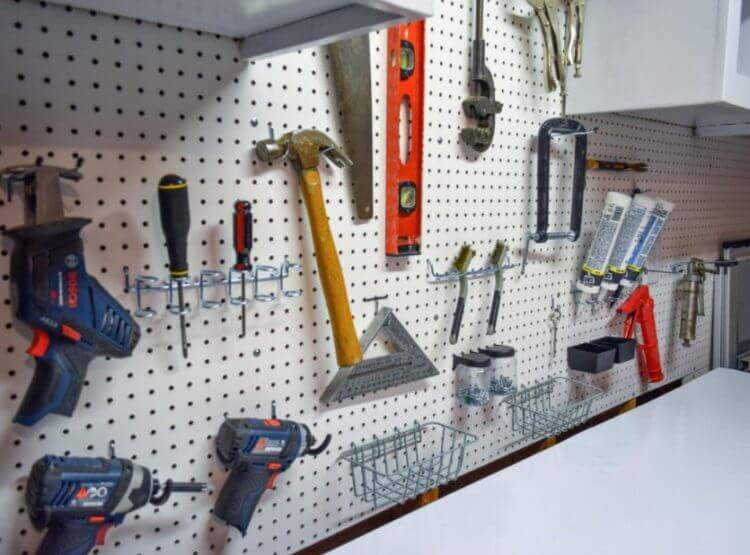 If you want to manage your tools and you do not want to put them away, In Built toolbox is recommended. It can be used both indoors and outdoors where you seem appropriate. You can also attach portable steel baskets, hooks, and nails for your assistance. Easy to install, In Built toolbox makes life much easier for its durability and strength. It can carry almost any material you want it to and it is the product for a new generation.
My Partner Pegboard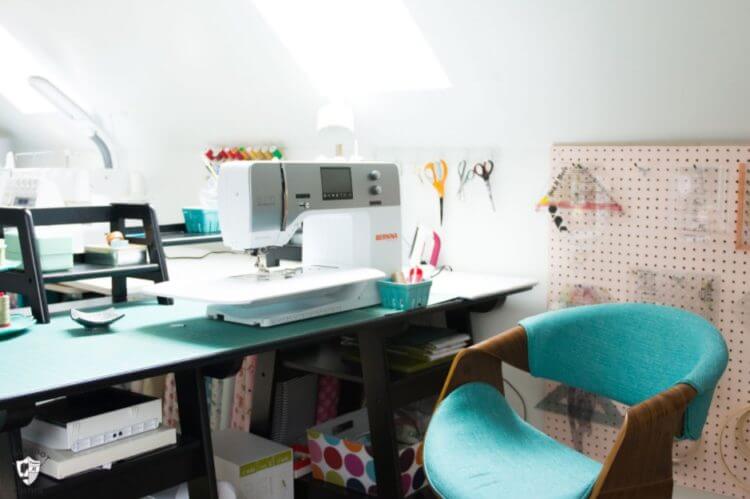 If you are working and you need more space in your area, My Partner Pegboard is reliable. It is installed on the walls of your working place and then it can be used for multipurpose such as sticking notes, hanging designs, poster or tools, etc. It has texture imprinted on it which gives it more of an aesthetic view, making your workplace more effective. It helps you manage stuff while providing you more space in your working place.
Multipurpose Peg Board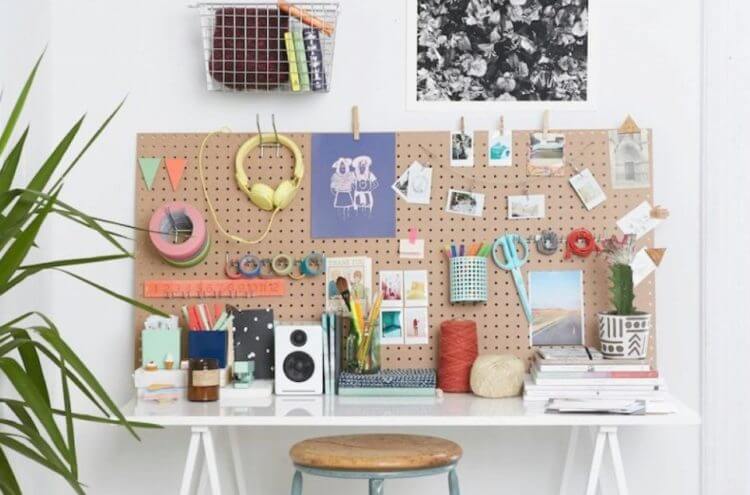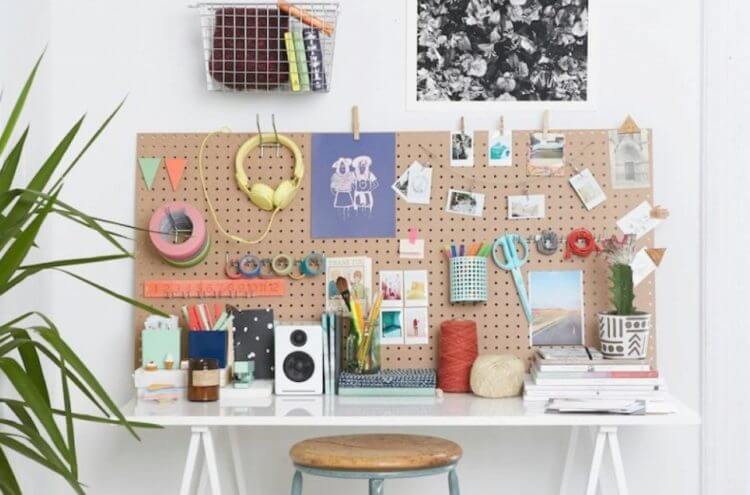 This multipurpose peg board is the unique one, if you want to hang your stationary items on it. This peg board can be used for hanging microphone, tapes, scissors and pen holders. The interesting thing is that you can clip some of your important notes on this peg board. So, have a look at this peg board in detail and we have some more peg boards for you on other sites. You can take help from there too. It would be helpful for you.
Stationary Peg Board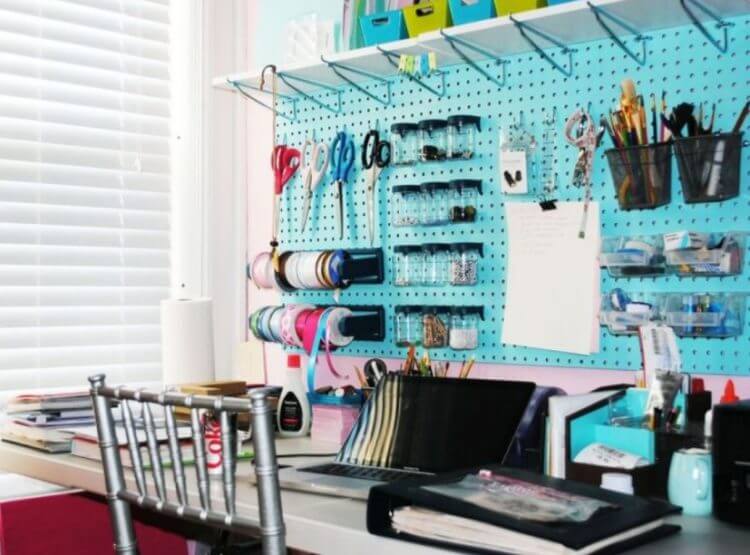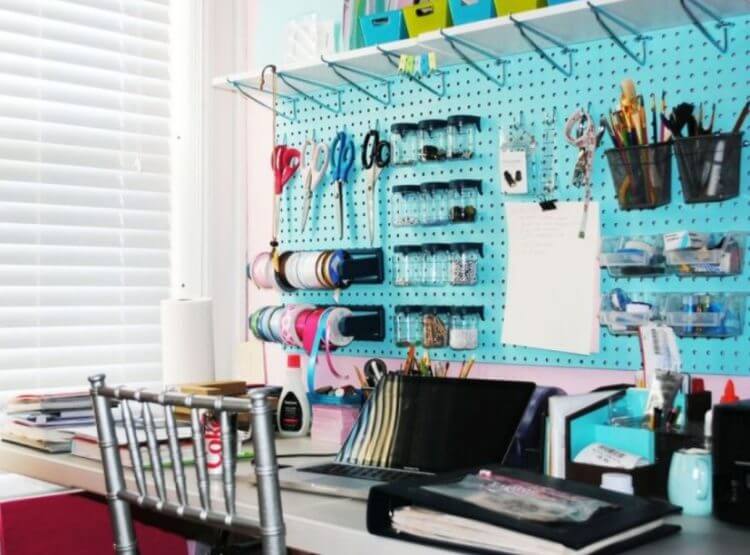 It is an interesting peg board that looks so amazing. You can hang scissors and clip papers on it. You can also hold the pens in it. The tapes can be attached on this peg board. There are hangings on the top to keep things up. This makes it more useful. You can hang all the important items of yours along this board. So, have a look at the picture of this peg board and you can get the idea that how you can use it.
Kitchen Pegboard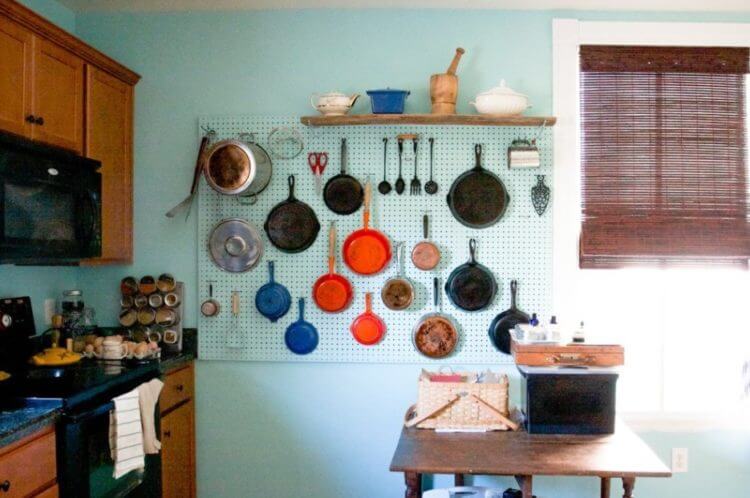 This pegboard is very useful for the ladies . The ladies in the kitchen can have a proper place for hanging the frying pans, spoons and other items of the kitchen. They should not have to search for things. Some of the items can be kept on the hanging rack on the top. So, let's have a look at the picture in detail, you would defiantly like it and plan to make such pegboard.
Pegboard for Household items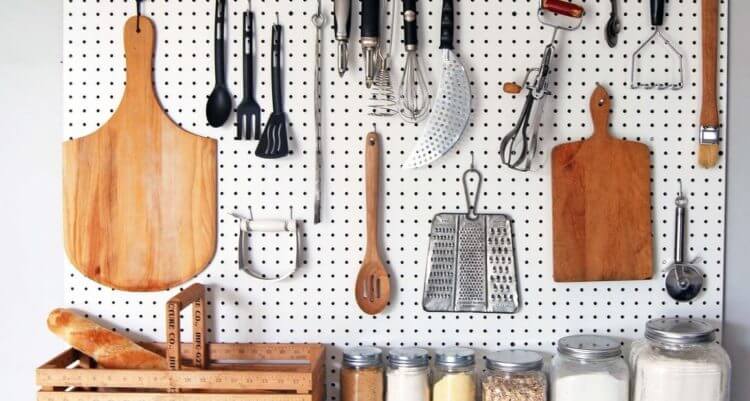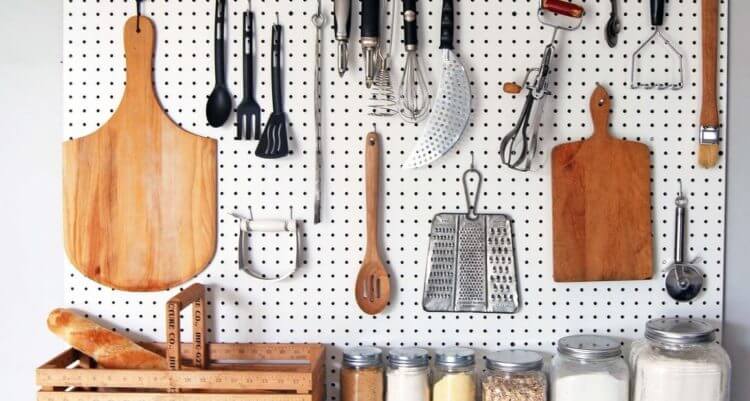 This peg board is very useful for hanging the boards, spoons and other small accessories of the kitchen. If you are fed up of searching the kitchen items and you have a habit of not keeping the items at the right place then this pegboard is really very helpful for you. Have a look at its picture , you can see that there are many accessories of the kitchen that you can hang on this peg board.
Elegant Pegboard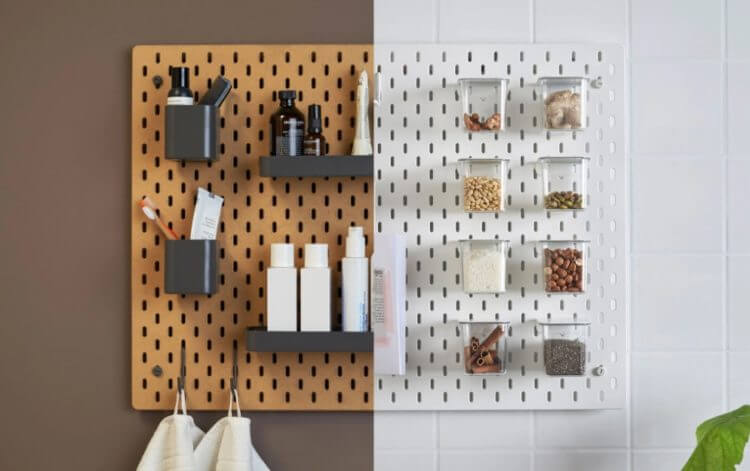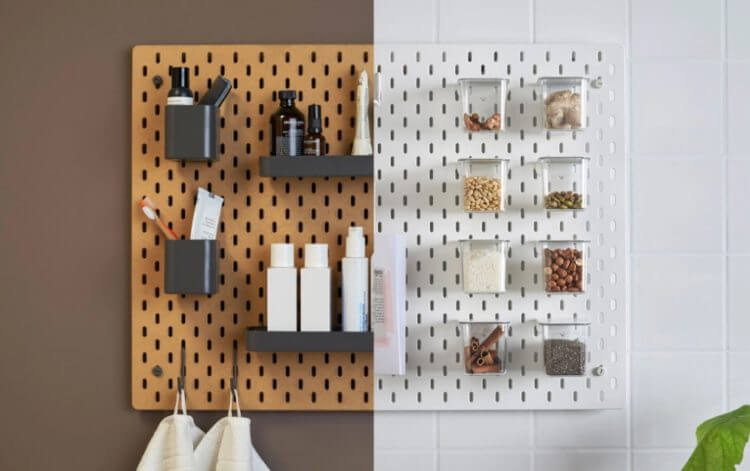 This peg board is a multipurpose pegboard. All the jars and containers can be hung on this peg board. You can hang towels also on this peg board, for this purpose there are hooks on this board. It's a unique invention which you can attach to the wall in your kitchen. So, have a look at its image. You can have a clear idea about this peg board. You would definitely like it.
The Most Amazing Pegboard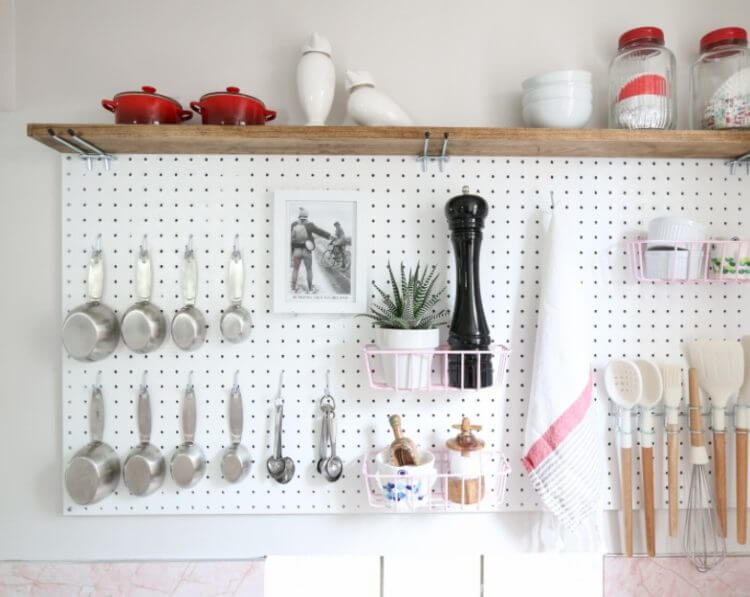 This pegboard is the most amazing one as it has a lot of space to keep the jars and other items. You can attach the spoon holders, the jar holders and much more for hanging. There you can have a picture for decoration on this peg board. You can have a wall hanging rack on the top of it and on it you can place many jars and things for decoration. So, let's have a look at its image.
Pans Pegboard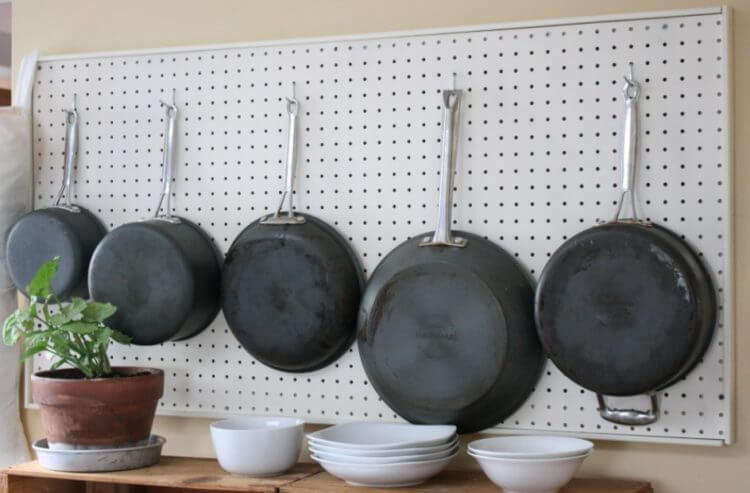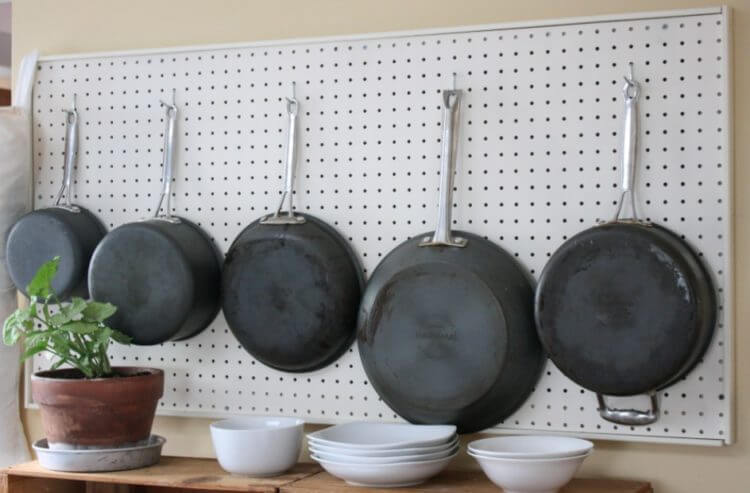 This peg board is called the pan holder as you can adjust as many pans as you can and hang them on the peg board. For this purpose there are hooks attached to the pegboard and on these hooks you can hang the pans of different sizes. It all depends on the size of the pan that how they can be attached and fixed on this peg board. So, let's have a look at its image and you would get an idea.
Hardware Storage Pegboard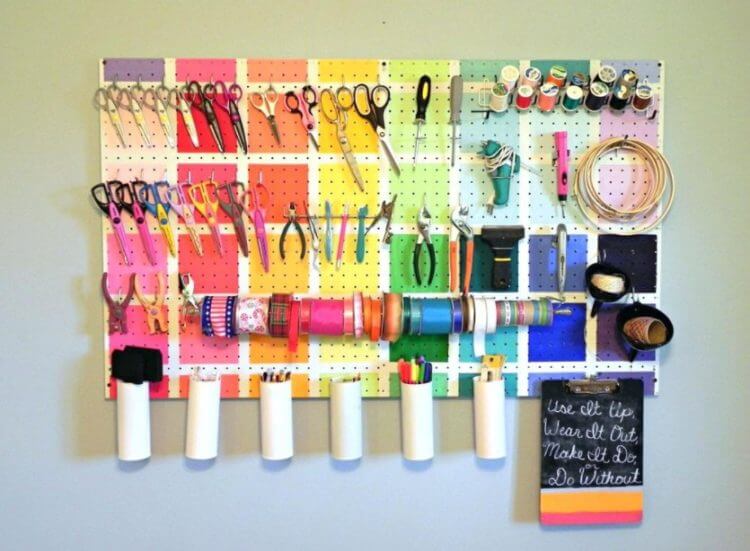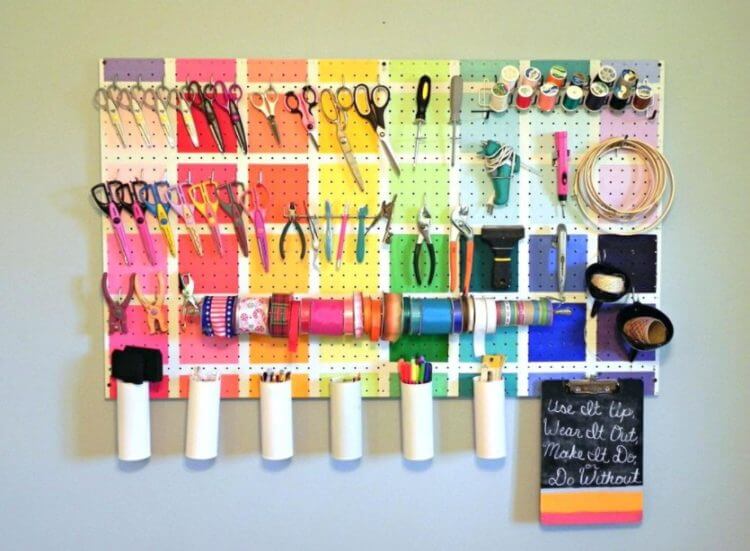 This peg board is for the people who are very much interested in collecting the hardware items. This is the right place for them to save these hardware items. For the male persons it is an ideal place to keep things. You can hang the scissors, tapes and much more safely. So, you can keep your hardware items without any tension. Let's have a look at the picture. You can find some details here of the pegboard and design it accordingly.
Huge Size Pegboard
This is the peg board in large size. The advantage of this peg board is that you can keep a lot of items and there is no problem if hanging things on this peg board. You can keep your books and much more items on this peg board. So, let's have a look at its picture and you would find the details on this board. You can hang the decorative material and the useful items as well as your brushes.
Pegboard for Dual Purpose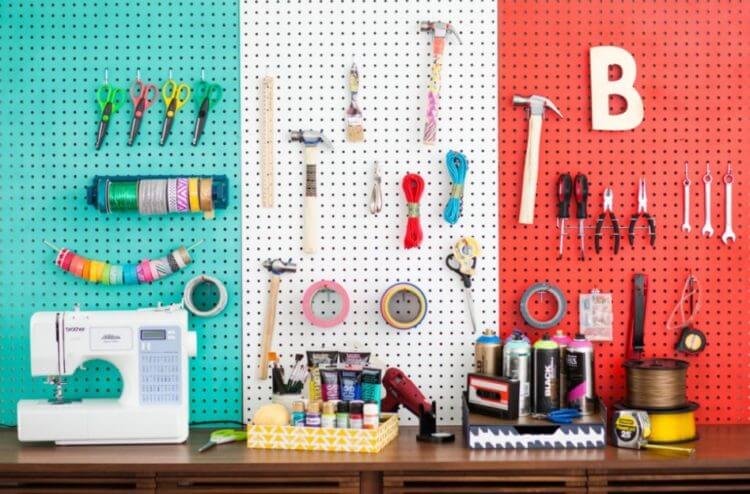 This is a multipurpose peg board as it displays that here you can hang your hardware items and your sewing items as well. On this peg board you have enough space to hang the screws, tapes and much more. This peg board is usually used by people who do work at home mostly and especially for those who stitch the clothes at home. Let's have a look at this peg board and you would get an amazing idea.
Pegboard with Reels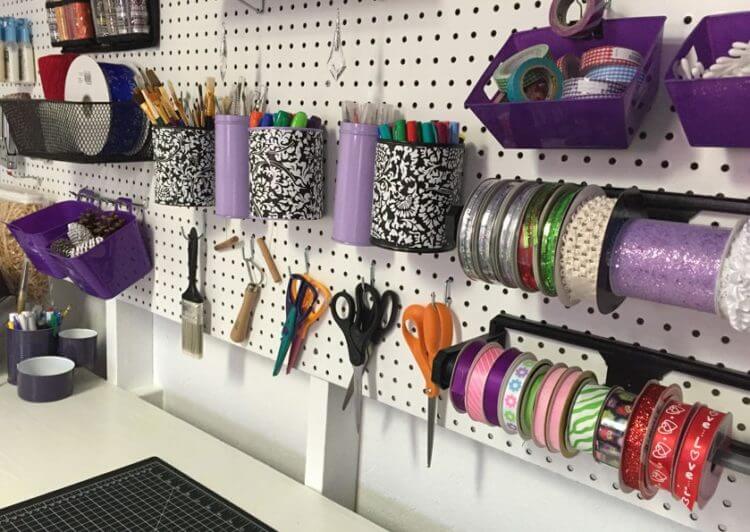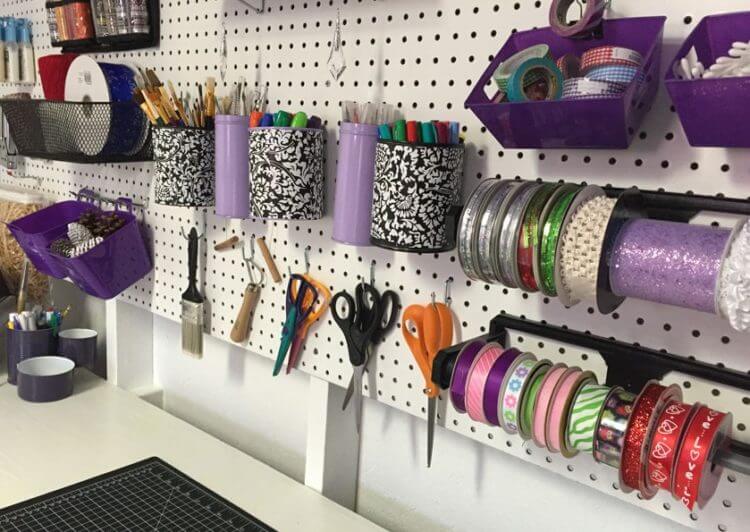 This pegboard has a lot of space for hanging the reels on it. There are scissors and brushes, ribbons and much more to display. If you are in a hassle and you are going to the party then this pegboard is the perfect one. This is very nice for your family too, and especially for those who study. Such peg boards are offering you a great place to hang your things and provide you the maximum opportunity to fill out all your essential items.
Sewing Pegboard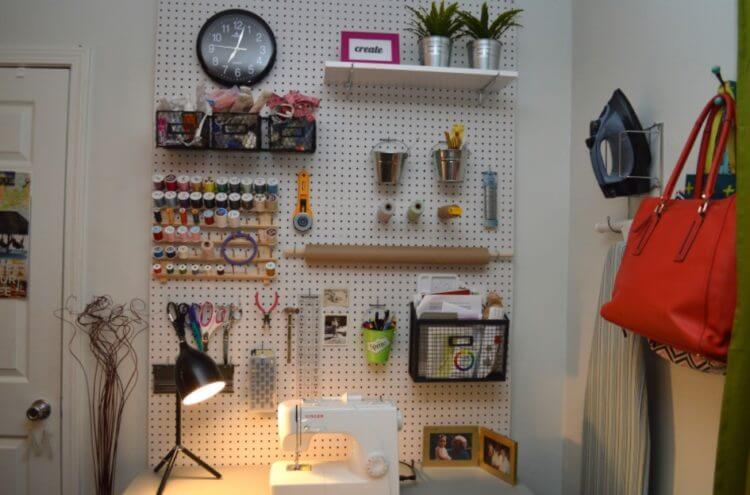 This peg board is the essential one when you are doing stitching. This has a rack for keeping the reels. There are boxes for keeping the clothes and stuff, at one side it has scissors and accessories used in sewing. Such pegboards are very rare. However, you can make such pegboard in your home for doing sewing. Have a look at this pegboard and you would get good ideas that how to make such pegboard in your home.
Pegboard for Essential Items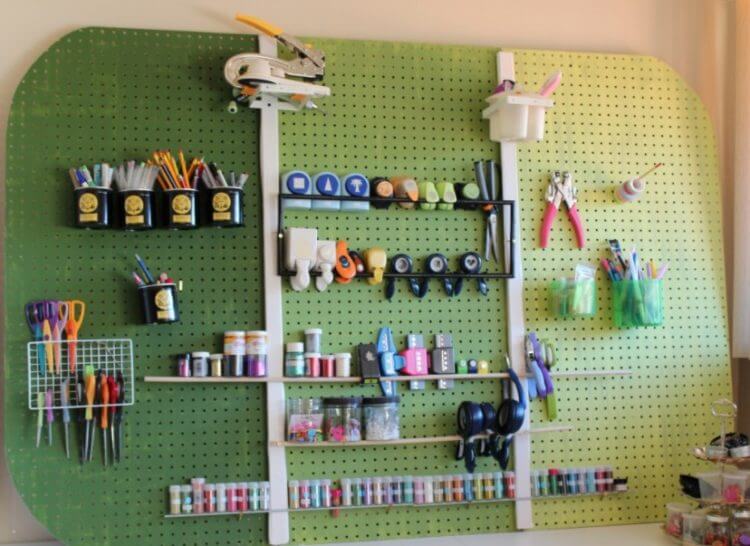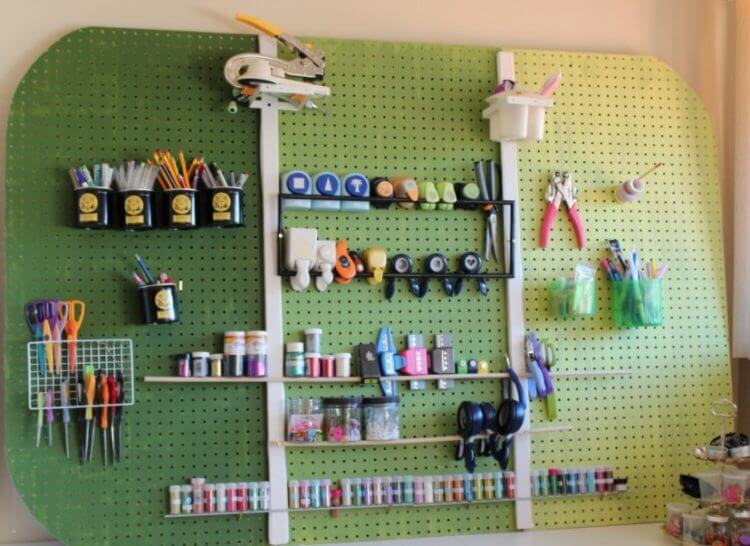 This pegboard has all the essential items including the reels, tapes, glitter, scissors, brushes and much more. This is especially used for the students who are studying in schools and for them it is easy to make assignments and to get their things from the pegboard easily. If you see it in detail you would find that there are many other accessories regarding the study material in this pegboard. So, have a look at this pegboard in detail and you would find amazing ideas.
Full fledged Pegboard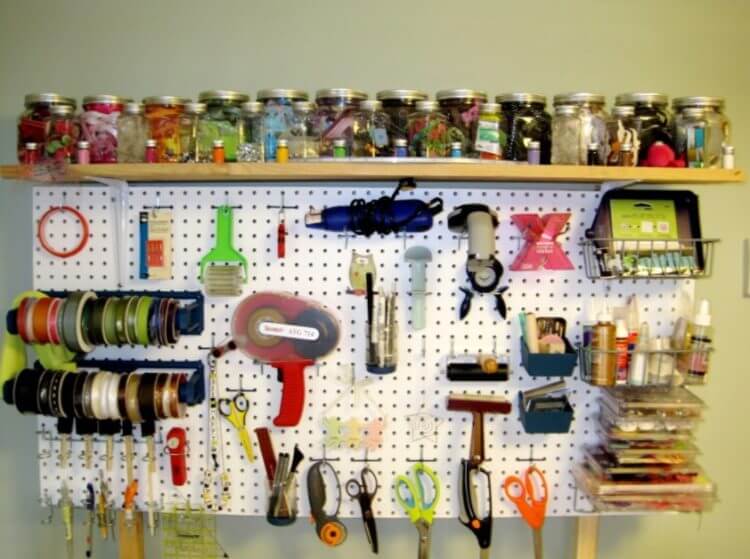 This pegboard is full with all the accessories and sewing items which are in use of the ladies. There are machines used in sewing and also there are also scissors of different sizes, tapes and threads are in the jars. With the help of this pegboard the ladies can manage their sewing items very well. This pegboard is especially for the ladies who stitch the clothes at home. So, have a look at this pegboard in detail, you can try to make this pegboard at home.
Stylish Pegboard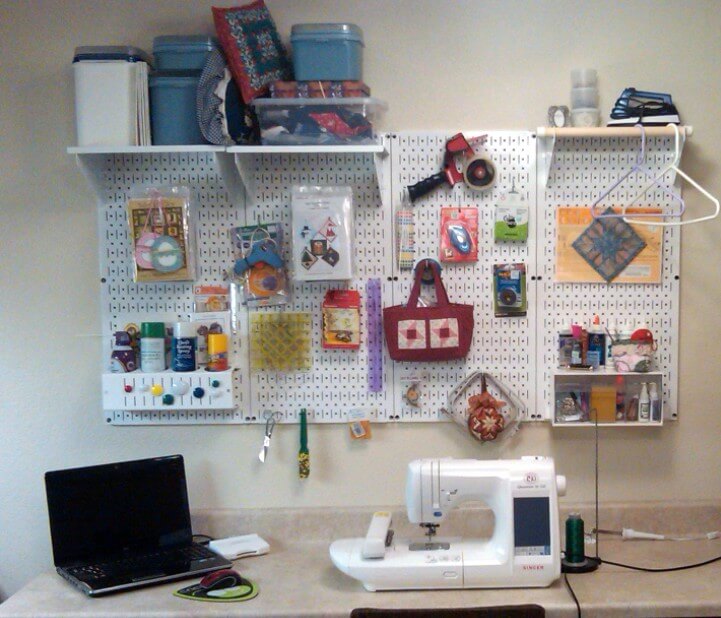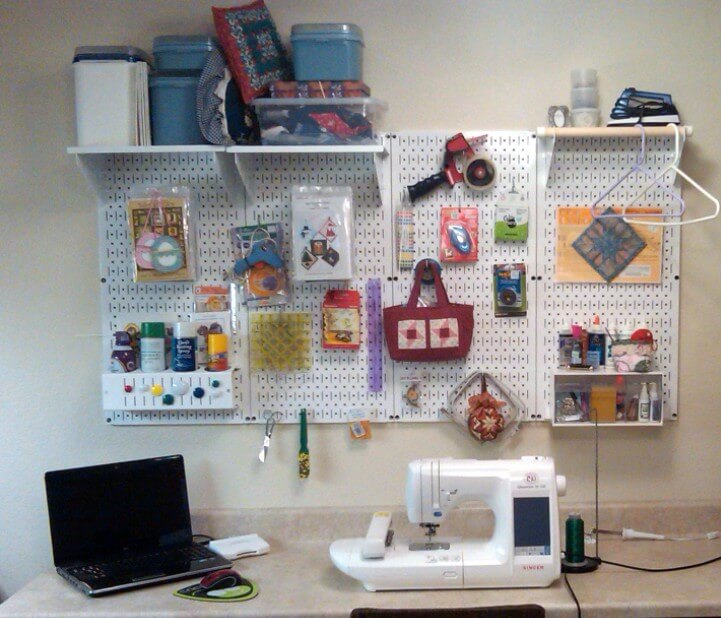 This pegboard is the stylish one and has many items on it. The ladies can hang the bags on this pegboard and there is also a place to hang the hangers. This is a modern type of pegboard and is very useful and helpful for keeping much of your items. So, have a look at its picture and try to make such pegboard at your home. This has a lot of space to keep machines on the top rack.
Working Pegboard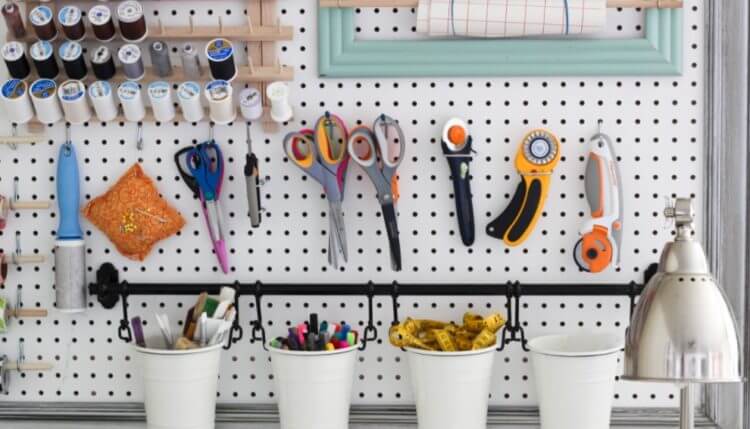 This is an amazing working pegboard which is designed especially for working and has a lot of accessories on it. There is a place for keeping measuring tapes, roles of tapes, scissors , brushes and some of the hardware items. Many of the people who love to work at home and mend things by themselves definitely would like this pegboard. So, have a look at this image in detail. You can have a clear idea that how can make it.
Outclass Pegboard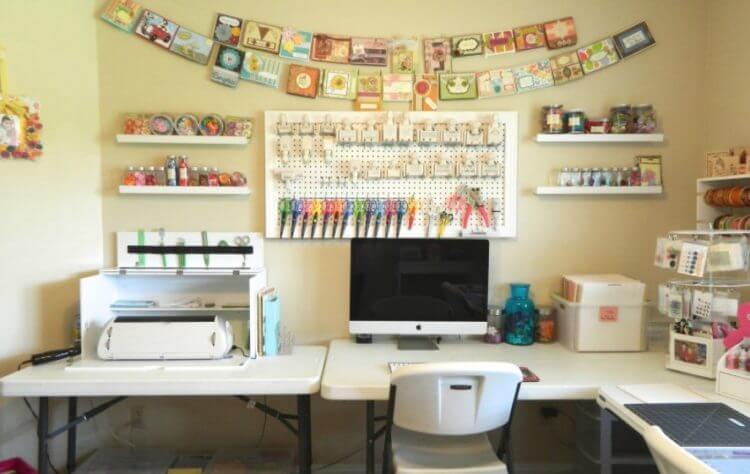 This is the pegboard which has all the important items of cutting and pasting. This pegboard is has the sewing boxes in which you can put the reels inside. Around this pegboard are cards and many of the small items present in the jars. This type of pegboard usually is used for small hangings. These are very useful and helpful pegboards which are used while making some things. So, have a look at this pegboard in detail.
Great Capacity Pegboard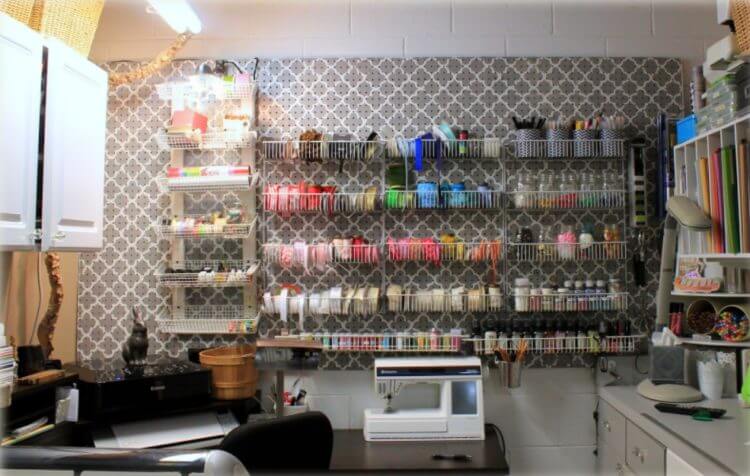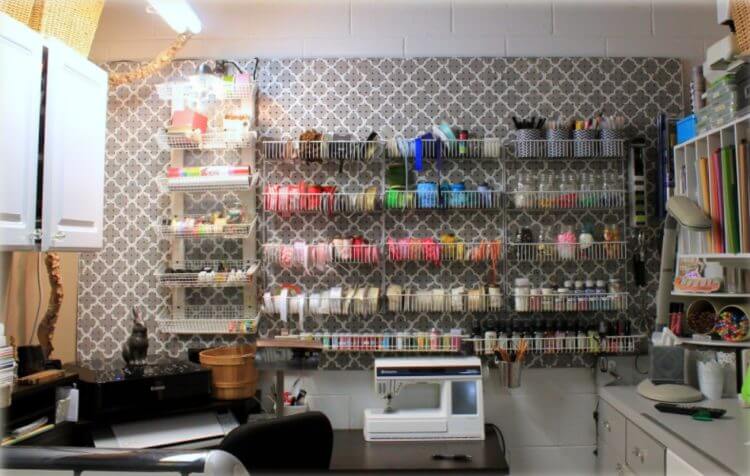 This pegboard has a great capacity inside it. This is used for keeping the sewing items inside. The jars having the reels, ribbons and threads can be kept in it easily. There is a rack made of wood which is attached to this pegboard, so that rack can be used for keeping additional sewing items. Have a look at this pegboard in detail. Hanging boxes are attached to it.
Attractive Pegboard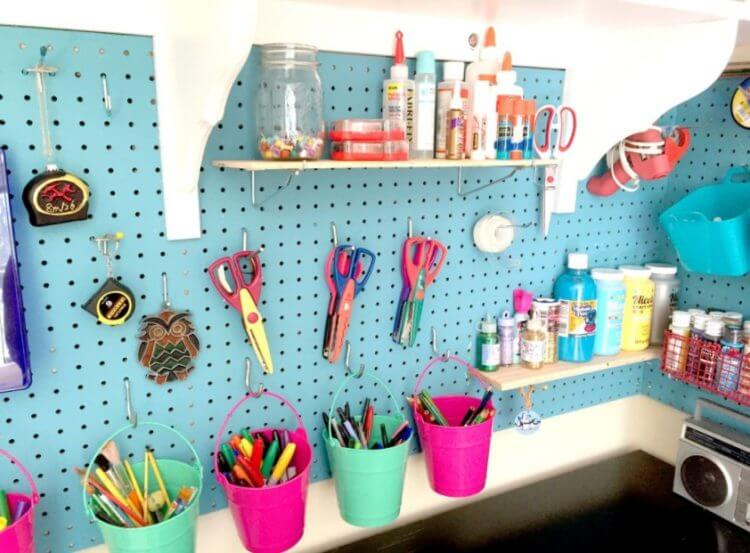 This is a colourful pegboard with a lot of unique items, having scissors, small buckets and there is glue on the hanging rack. You do not need to go anywhere when you are using this pegboard. All of your work items would be safe here. This pegboard looks very charming and attractive and has all the essential accessories items on it. Let's have a look at this pegboard in detail.